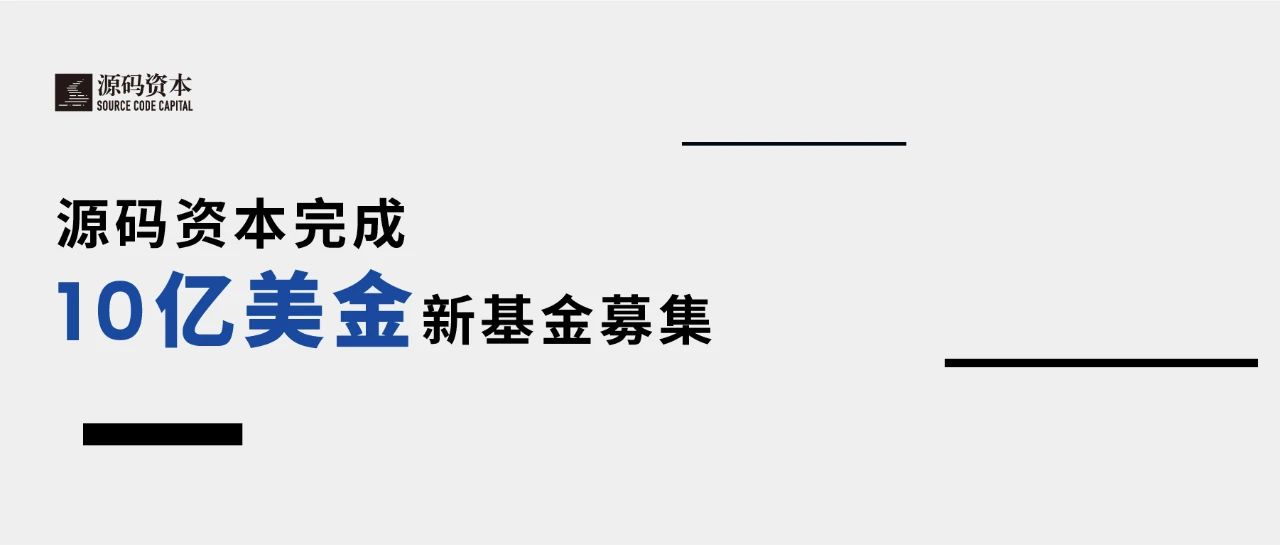 Source Code Capital has announced the closing of its latest USD $1 billion fundraise. With the completion of the new fundraise, the total assets under management at Source Code Capital have now reached a grand total of USD $2.5 billion and RMB 8.8 billion. This USD fundraise received enthusiastic backing from both new and old investors, with 100% re-up support from existing long-time Limited Partners ("LPs), representing strong cooperation between Source Code Capital and institutional LPs from all around the world.
Cao Yi, CEO and Founding Partner of Source Code Capital, said, "On behalf of Source Code Capital, I would like to thank our global and top-tier institutional LP investors for their continued trust and support. We will continue to partner with and work hand-in-hand with visionary and audacious entrepreneurs, and through the compounded power of technology and capital, strive to change the world. We are dedicated to be the most entrepreneurial investment institution, and through outstanding performance, generate long-term and outsized returns to our investors."
Jireh Li, Head of USD IR at Source Code Capital, said, "We are very grateful to see continued trust and recognition from LP institutions, particularly with regards to Source Code's increasingly "institutionalized" organizational, unique Code Class ecosystem, in-depth research-driven investment logic, and effective collaboration between our "special forces" investment team, and our "arms arsenal" all-rounded platform support. While oversubscribed, we kept our discipline, stayed true to our strategy, and closed our Venture and Growth funds at respective hard caps."
As of 2021, Source Code Capital is currently partner to 2 decacorn companies valued at over USD $100 billion, 3 portfolio companies valued at over USD $10 billion, and 20 unicorn portfolio companies valued at over USD $1 billion. In addition, 8 of our portfolio companies have now achieved successful IPOs, and Source Code has made over RMB 20 billion in return for investors.
Giving the same attention to both early and growth stage
Upon the completion of this new fundraise, Source Code Capital will continue to make early- and growth-stage investments. Following its "Three Fundamental Drivers" investment roadmap, it will continue to look for and partner with entrepreneurs in the fields of "Internet+", "AI+" and "Global+". Whether from the To B industrial Internet, which includes intelligent manufacturing, robotics and SaaS, or from the To C industry, focusing on new consumption content, new consumer brands and channels.
In terms of early-stage investments, Source Code Capital aims to focus on investing ahead of consensus, on the the "next big ideas" that are now "frontiers of the present, but will become mainstream of the future." In terms of growth-stage investments, Source Code's investment philosophy as based on "qualitative change" has been widely recognized by the industry. Through effective collaboration between the early-stage and growth-stage investment teams, Source Code is able to bring broader perspectives and in-depth strategic support to its portfolio companies across different stages. This multi-stage investment ability enables Source Code Capital to provide uninterrupted support for exceptional entrepreneurs through continuous rounds of investments across multiple stages of a company's growth.
Such synergies generated from Source Code's early-stage and growth-stage investments has already been reflected in many projects today, such as: Baibu, Xiaoyaoyao, Yijiupi, Casstime, YQNLink, Zhongneng United, Edianyun, HAI ROBOTICS, Mech-Mind Robotics, Gaoding Design and other "To B" companies, as well as Bytedance, Meituan Dianping (3690.HK), Li Auto (NASDAQ: LI), Ke Holding (NYSE: BEKE), RELX Technology (NYSE:RLX), Ziroom, Narwal, Pagoda, Pai Technology, Blocks Group, Cha Yan Yue Se and other "To C" companies. Investment in those companies can be divided into two categories, which is representative of Source Code's strategy. Some of the companies received multiple rounds of support since the early stage onwards, while others were invested in during their growth stage upon diligent and thorough investigation, to help growth companies achieve "qualitative" changes.
"Special Forces" and "Arsenal"
From 2014 to 2021, the Source Code Capital team has grown from less than 10 people, to a team of 80+, including 6 Partners. This team was built on a common vision, it is an organic organization with remarkable execution capabilities. "Institutionalized", "highly efficient" and a "powerful platform" are some of the keywords representing the Source Code team today.
Across the early- and growth-stages, there are three Partners, Cao Yi, Huang Yungang, and Wang Xingshi, and over thirty investment team members grouped into a "special forces" team, to provide support to preeminent entrepreneurs across different stages. Across the platform and post-investment operations, Source Code Capital established a team of professionals from different backgrounds, and organized them into an "arms arsenal." They are here to empower entrepreneurs and investors alike, to help start-ups and portfolio companies grow by providing a wide array of solutions regarding strategy, growth, organization, resources, etc.
In 2020, using the concepts of "systematization" and "productization," the post-investment team completed a total of 759 post-investment actions for early- and growth-stage portfolio companies. This team is organized to implement 28 post-investment products and services (a "4×4" table matrix of post-investment services). Regarding recruitment, the post-investment team helps companies in need to expand and refine their talent pool, and help recruit key talents for crucial positions, such as, COO, CFO, CHO, etc. In terms of policy research, it has provided enterprises with over 1,000 suggestions and policy solutions. In growth and development, it has helped new consumer channel enterprises link-up with major traffic platforms such as Douyin, Bilibili, and Xiaohongshu, to better access key resources. In financing, it has helped connect over USD $1 billion in equity financing solutions, as well as connect about RMB 1 billion in debt financing for more than 20 portfolio companies.
Source Code Capital has also established a unique industry "super hub" named "Code Class" since day 1 of its inception. This super hub is Source Code's proprietary strategic alliance composed of 30+ New Economy leaders in China and over 200 Source Code portfolio companies. Enriched by the participation of entrepreneurs across different stages, Code Class is extremely active, creating an intimate link, promoting cooperation, experience sharing, and feedback in between Code Class members. One example of this activity is Code Class members promoting cooperation through the "Code Class Premium" package, and regularly using the "Code Class" online ecosystem to increase their knowledge, and sharpen their understanding and analysis capabilities.
Cao Yi said: "Working with outstanding entrepreneurs is the key to our success. It is also the main source of motivation regarding Source Code Capital's organization growth. It is our philosophy to think about problems like entrepreneurs would, to strive to work alongside entrepreneurs and their teams, and overcome difficulties together with them. Once again, I want to thank all our entrepreneurs and our LP investors for their trust and support. We are fully committed to be the most entrepreneurial investment institution!"