Author: Kaisi Chang
In this report, we present some insights on understanding how to reassess offline retail amid the trend of "New Retail." Thoroughly researched and analyzed, Source Code Capital exclusively presents Source Code Research Report Issue No. 1.
Viewpoints
The recent "weak recovery" of offline retail is actually an active adjustment made by the e-Commerce industry. In the long run, it is necessary for offline stores to embark on significant transformation to adapt in the new retail industry.
In the future, successful offline stores should be able to focus on real-time and service consumption, control the supply chain, and rely on consumer experience instead of mass marketing.
Going forward, the increasing potential of offline stores comes from taking full advantage of offline traffic. For future retail, the difference does not exist in between online and offline traffic, but in their acquisition cost and the degree of utilization.
1. Profound Challenges Facing Offline Stores Despite a "Weak Recovery"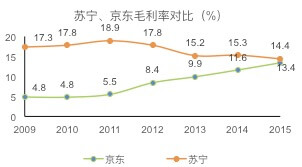 Source: Annual Reports
A comparison of gross profit margin between Suning (orange line) and JD.com (green line)
In the recent five years, e-Commerce has been a key theme within the retail industry, disrupting and challenging offline stores in virtually every category: beginning with 3C and ranging from clothing to general merchandise. Under such pressure, discussions about transformation began in the offline retail industry, with innovative ideas such as omni-channel retail in 2010, O2O, Internet+, and most recently, "New Retail."
Data shows that after a nearly five-year slump, offline retail is beginning to see some bright spots. According to the Chinese Ministry of Commerce, in January and February 2017, sales of key supermarkets and retail stores saw a year-over-year increase of 3.8% and 5%, respectively, significantly outperforming the growth in Q1 2016. This was the so-called "weak recovery" in offline retail.
However, from our perspective, this kind of "recovery" is incomplete. The recent "recovery" is an active adjustment of the e-Commerce industry, rather than a sign of success for offline stores. Within the past decade, e-Commerce's major weapon against offline stores has been price. Despite lower gross margins, e-Commerce expanded rapidly thanks to the demographic dividend enabled by the Internet. It also allowed for e-Commerce to gain sufficient cash flow with advantageous payment schedules given by upstream enterprises to support its development.
In recent years, as the competitive landscape gradually became stable and the Internet drove demographic dividends, online retailers adjusted their price and gross margins to match their offline counterparts, giving offline stores some breathing room.
However, as e-Commerce becomes increasingly mature and diversified, including cloud computing and Internet finance sectors, offline retail will begin to face many challenges. These problems would include, but are not limited to: a reduced number of customers, price competition with online stores, and an increase in rental payments. The deeper issues lie in the lack of control in the upstream supply chain, access to downstream customers, and capability of full digital operations. Most offline retailers are changing, as many have launched their own e-Commerce platforms, added mobile payment capabilities, or upgraded IT systems. However, these changes are mostly remedial and defensive measures, and fail to fill in the efficiency gap.
2. Consumption Transition, Upstream Supply Chain and Functional Transformation
We believe that in order to survive in the retail industy, offline stores should focus on the following aspects:
(1) Real-time and service consumption: F&B related consumption, such as tobacco, wine, snacks, catering, coffee and tea, as well as Services, such as, KTV (karaoke), movies, education, printing and typing services, are two domains that online stores have found difficult to penetrate.
(2) Control the upstream supply chain: stores relying on third-party brands are easily disrupted or challenged by e-Commerce platforms in terms of sales and purchase frequency. By controlling their brand and design, offline stores can improve their efficiency from the supply chain and create additional value for their customers.
(3) Rely on experience rather than appearance: the use of displays and storage in offline stores will be relatively weakened, since they cannot compare with e-Commerce in both the number of racks or the accuracy of their storage arrangements. The advantage of offline stores lies in building up scenario-centered user experiences, and in enhancing the customers' understanding of the quality and the brands of goods.
3. Offline Traffic Remains to be Discovered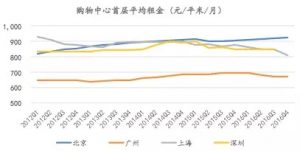 Source: Savills
Average rent of ground-floor stores in shopping centers (RMB/m2/month)
Beijing (blue line) / Guangzhou (orange) / Shanghai (grey) / Shenzhen (yellow)
The features above have the ability to create for an excellent brand, but greater opportunities will come from fully exploring the value of offline traffic. Despite its rapid development, online stores only account for about 10% of total retail sales, and most of the traffic and consumption is still from offline. With e-Commerce, there is the ability to reach customers through each operational link, which enables it to fully capture the value of traffic. When looking at offline stores, most exsisting ones are restricted to displays, but have not begun to optimize their digital transaction potential. Therefore, the customers' behavioral data brought in from offline stores is fragmented and in some ways, unusable.
From the perspective of traffic costs, rental costs for offline retail have been slowly declining since 2015; whereas the cost of online traffic has doubled from 2012 to 2015. How offline stores fully develop the potential of offline traffic will determine their future success.
We believe that retail in the future will turn from sales-oriented to traffic management-oriented, and will integrate between online and offline sales. With more offline traffic data becoming readily available, both online and offline data can be analyzed and utilized, supporting sales in more dimensions. Since offline stores are in the early age of evolution, new technologies will become increasingly important in offline traffic management and will help improve the overall efficiency. Kidswant is a good example in this respect. The entire management of Kidswant is centered on its membership system, with members accounting for over 95% of its sales. Through a mobile platform, the task of membership management is assigned to each salesperson, and each store holds an average of 1,000 campaigns annually to improve user activation and retention. Despite the increasing penetration of online stores in maternal and child supplies, Kidswant still maintains an annual growth of over 50%.
To sum, with regards to future retail, the difference does not exist between online and offline traffic. Rather, the key differentiator is in their acquisition cost and the degree of operational optimization.