As part of our Code Class, Code Brain is an integral part of Source Code Capital's post-investment services as an intimate offline event. Held once every month, Code Brain covers the most pressing topics and fields that concern entrepreneurs today. Code Brain organizers are CEOs and industry experts. Together, individuals have the ability to brainstorm and discuss hot topics in an offline and intimate environment. The Code Brain program allows for Code Class members to network and receive valuable insights and case study sharing from established entrepreneurs.
Code Brain Vol. 6 takes a closer look at Bytedance Technology: What is the trend for attracting traffic in relation to start-up companies? What is the future of traffic in-flow? Below, we present an abstract of Code Brain Vol. 6.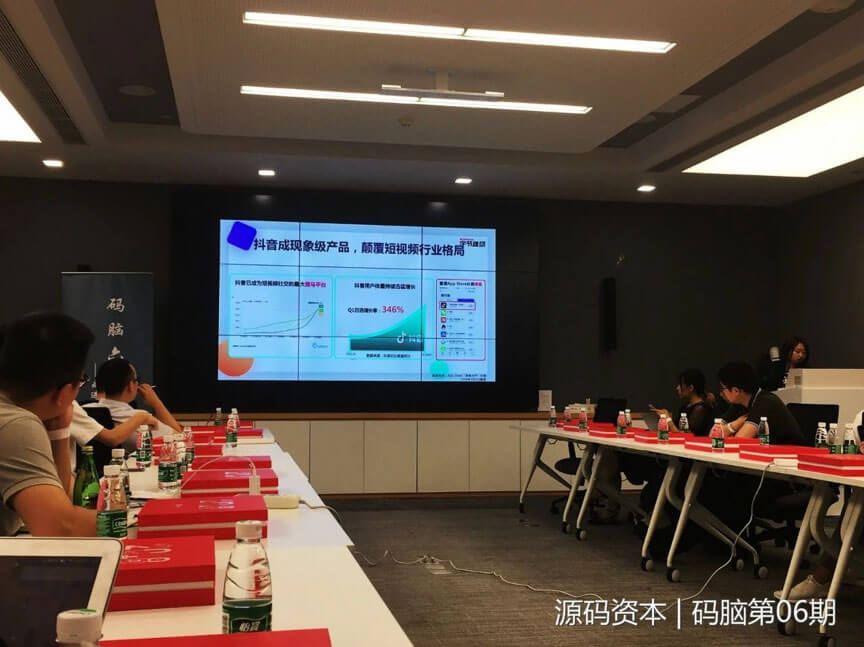 Content
Behind the Tik Tok (Douyin) Phenomenon
How to optimize online traffic with scenes, content and users
How to create the right ad campaigns on Tik Tok
How to promote your brand through Tik Tok exposure and interactions
Guest Speakers
Xia Wu – Commercial Network Services Manager, Bytedance Technology
Minlin Yuan – Northern China Marketing Director, Bytedance Technology
1. Behind the Tik Tok (Douyin) Phenomenon
By mid-June 2018, Bytedance Technology's products had over 400 million daily active users (DAU) in China and have since gained an additional 150 million. (Note:DAU=Daily Active User)
So, who are Tik Tok users?
Tik Tok user overview: Currently, 90% of Tik Tok users are under the age of 35. 60% of users hold a Bachelor's Degree or higher.
User stickiness: Tik Tok's user stickiness far exceeds other online platforms. From daily use frequency to the average user time window, Tik Tok shows a strong user engagement with high frequency usage during prime times.
Who creates the content on Tik Tok?

In the beginning, online influencers created most of the content. Since then, these influencers have massively grown in size. Some influencers have millions of followers.
At the same time, Tik Tok has invited celebrities into the platform, many of whom are internet celebrities, including Dilraba Dilmurat, Guan Xiaotong, Zhou Dongyu and many more. When "Gaga Dance Machine" (a popular function of Tik Tok) was first released, the premier video was a collaboration between Tik Tok and Guan Xiaotong.
In addition to influencers, Tik Tok has the capacity to generate new trends. Coco Milk Tea is a prime example of this: a Tik Tok user recorded a video of ordering milk tea at Coco with their unique requests, subsequently going viral on Tik Tok. As a result, Coco put the special milk tea on the menu as a "Tik Tok Special." There are also many creative ideas forming around HaiDiLao Hotpot, where Tik Tok users have the ability to explore various cuisines, which helped drive business for HaiDiLao.
2. How to optimize traffic with scenes, content and users

What kind of content attracts the majority of Tik Tok users?
There are four kinds: Inversion drama, cute girls, cute pets, and hilarious comedians. Another way to summarize this would be the 3B's – beauty, beast, and baby.
"Tik Tok Drama Enthusiasts" :
This refers to users who are keen on music pieces with plots, narratives, and so on.
Some influencers have made their mark with popular Tik Tok videos ranging from music to dance clips.
Tik Tok has provided us with a very successful platform that has a unique marketing approach. To enhance Tik Tok's user experience, we need to be very careful in developing ad campaigns and finding ways to make an impact without negatively affecting user experiences.
3. How to create the right ad campaign on Tik Tok
With the development of product functionalities, Tik Tok has introduced its brand page function.
Before brand pages were released, uploading to Tik Tok was more of a personal experience. As brand pages have gained popularity over the years, users who value content creation can now accumulate their user stickiness on their brand pages.
Therefore, we are allowing brands and companies to upload their ads onto Tik Tok and for brands who'd like to collaborate with talent on Tik Tok. Additionally, if Tik Tok developers and managers believe the content is of high quality, they will move the post to the top of users feed.
Since this function can be seen as a landing page, we have a solid plan for specific topic-oriented collaborations on Tik Tok. We can collaborate with various talented users on a daily basis, adding content and traffic to the brand page.
With the creation of brand pages, we assumed there would be questions, such as, when would be the best time to publish content? Here are some answers to such questions.
The Right Time:
The following data has been collected from Tik Tok's platform, and this information is unique to Tik Tok users. Most users are active between 8am to midnight, with noontime and the evening being the peak user times.
We suggest that brands and advertisers upload their ads around noon or after-work hours, including the general commuting and relaxation time.
From tests conducted on select client brand pages, we learned that if you want to keep your influence at a certain level, you must publish diligently on the platform so that people are actively aware of your presence. Do not focus on how much brand information is embedded, how correct it is, or its quality. We believe frequency is the most crucial factor in relation to posting time.
By posting five times a week, you can flawlessly operate and market your brand page.
The Right Content:
In addition to the right time, we need the right content.
We have collected specific, common features among top brand pages on Tik Tok:
– Eye-catching cover photo
– Intriguing content, with a touch of Tik Tok style
– More effective with background music
– Originality is key
Some advertisers chose to put TVCs on Tik Tok; however, we do not recommend this strategy. Although TVC productions are usually sophisticated, TVC's narrative style does not match Tik Tok's platform and style. As we can see, many TVCs on brand pages have relatively fewer views or "likes."
Tik Tok has a distribution method where content that seems accidentally recorded may end up with high recommendation rates and a large volume of organic reach.
Last but not least, following users back is the key to success. On Tik Tok, try your best to reply to everyone who interacts with you; this is a crucial step to attract more followers for your brand pages.
4. How to promote your brand through Tik Tok with exposure and interactions
From a brand's perspective, brand exposure, interaction, and switch can take place in various ways.
Regarding brand exposure, a brand can use Tik Tok's information flow. Every year we host a Tik Tok Carnival, which was sold out last year. Tik Tok Carnival is an excellent opportunity to gather Tik Tok influencers, talents, and celebrities. Without a doubt, it is also the best time for brands and advertisers to implant their ad content, freshen up their presence on Tik Tok, and meet more users on the platform in person.
As for brand interaction, the most efficient method would be to set up online games and activities. As we mentioned, Gaga Dance Machine and AR are just a few popular ways for brands to target user groups. These functions are open and encouraged for brand collaborations; at this time, users are still in the process of selecting the right brands and clients for future collaborations.
Lastly, the brand conversion is mostly seen on Tik Tok brand pages, including the use of Tik Tok red pocket collaboration and informational flow. To conclude, these are some practical ways to approach brand conversion.
Live Q&A (Excerpt)
Q: Start-ups might have little or even non-existent budgets, what are some of the affordable ways for them to reach more traffic at lower costs?
A: Content! It is the lowest costing tool while still allowing brands to reach a significant amount of people.
This includes content published on Toutiao, WiToutiao, Wukong, with product information in place. Brands can be earnest while responding to some difficult questions concerning their products. In our opinion, if a start-up has limited funding at the beginning, it can start with content. You can make content into articles, Q&As, snaps and stories, for example.
Through its content, a brand can create a connection with clients and users directly. Of course, if you can do this along with ad campaigns, you can get more users, and your brand can reach more populations. With this method, you can establish a healthy relationship with your clientele.
When you are creating content, you need to understand the unique features of your products. For example, Jinti Toutiao, iXigua, and Wukong are all targeting different user groups, and the concepts they pass on to users are different as well. It is recommended that a brand should not use the same copy on several platforms, but tailor their copy to different user groups on various platforms. Content that initiates more interactions with users may lead to better outcome.