Author: Yiwen Hao
Editor's Note
After thorough analysis, Source Code Capital exclusively presents Source Code Research Report Issue No. 11.
Viewpoints
Although Chinese SaaS enterprises are developing at a slow pace, they represent a growing share of the market.
The operational metrics of SaaS companies have particular assessment methods.
We present additional comments on market, sales, and internal management.
We believe that Chinese enterprise SaaS businesses lag behind their American counterparts in terms of development by 3-5 years. This is mainly reflected in:
Company size: Domestic SaaS companies with revenues of over USD $100 million are rare. In comparison to traditional software integrators, they comprise a small market share. There are very few sectors in which the SaaS model dominates both horizontal and vertical applications.
Ecosystem: Global SMEs have access to basic platforms such as Google Apps, Office365, and Salesforce, as well as more specialized integration and streamlining applications such as Okta and Onelogin. China lacks these types of platforms. As a result, it is more difficult for domestic start-ups to develop into small enterprises, and thus, many choose to opt for enterprises targeting medium to large customer bases. Ding Talk and WeChat at Work are two enterprise-focused applications hoping to bring change to the ecosystem. However, progress has been slow.
Competitive environment:  There is a repetitive ten-year cycle of intergenerational competition among American SaaS companies that produce similar product lines, such as FreshDesk vs. Zendesk, and Stripe vs. PayPal. Entrepreneurs usually attempt to find breakthrough points within different application scenarios, and there is a fair amount of cooperation and connectivity between different products. In comparison, Chinese companies must endure grueling homogenous competition, leading to excessive output in some areas with no single company able to take the lead. Even for some products that have yet to launch, such as the WeChat Business Card CRM app and WeChat Mini Program Website-builder, strong competition already exists before they even enter the market. Entrepreneurs should give more thought to their products' entry points and margins. As there is a high degree of difficulty in finding a suitable business partner, most companies must rely on rapidly expanding product lines in order to fight for the customers' share of wallet.
Exit mechanisms:  In the enterprise-related services sector abroad, there are many opportunities for large companies to acquire start-ups. Listing standards are lenient, creating a favorable exit environment for VCs and founders.
Currently, SaaS businesses are also widely evaluated among domestic and foreign first-and second-tier markets based on the P/S valuation method, and also have more specific requirements with regard to the acceleration of revenue during different phases.
Although the market in China is growing slowly, it boasts a myriad of extraordinary up-and-coming SaaS entrepreneurs. Source Code Capital continues to actively search for opportunities and has valuable expertise in assessing SaaS projects.
1. Operational metrics for baseline assessments
The operational metrics of SaaS companies have always maintained relatively specific assessment methods. David Skok's article SaaS Metrics 2.0 is a comprehensive summary of this system, and there are several different Chinese versions in circulation. Since there are already detailed explanations on essential indicators, no further elaboration will be offered here. However, there are three SaaS Metrics 2.0 indicators which have not yet been mentioned, and we feel that they are very crucial for investors and CEOs in determining the progress of company operations:

(1) Lead Velocity Rate

This metric reveals the growth conditions of monthly sales leads. First, it can help to determine whether or not the market ceiling is high enough. Second, it is a leading indicator of sales performance 3-6 months down the line. Lastly, it can provide insights to the sales team on the balance between customer accumulation and bill processing in the workload distribution.
(2) Quick Ratio

The SaaS Quick Ratio can be understood as the escape velocity in which SaaS companies "accelerate away from the earth's gravitational pull." The business model of SaaS is a process in which new contracts are acquired while value is created through services in order to avoid customer attrition. There is a general consensus that the quick ratio should be larger than 2 so that sales revenue will not suffer from the effect of lost customers.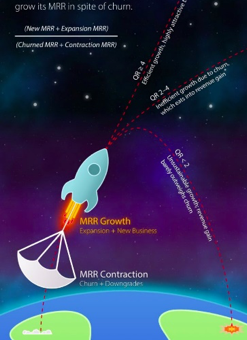 Source: Chartmogul
(3) North Star Metric
The North Star Metric is a single metric companies use to measure the enduring value created through its products. Generally speaking, this metric is not a financial metric such as MRR, nor is it a surface level operational metric such as MAU or DAU. Rather, it is a core indicator which reveals true product value. For instance, in the case of an instant messaging platform, the core indicator could be defined as the sending and the receiving of over ten messages in a single day, and the number of users or a total number of registered users who remain logged in for more than 30 hours. (See illustration)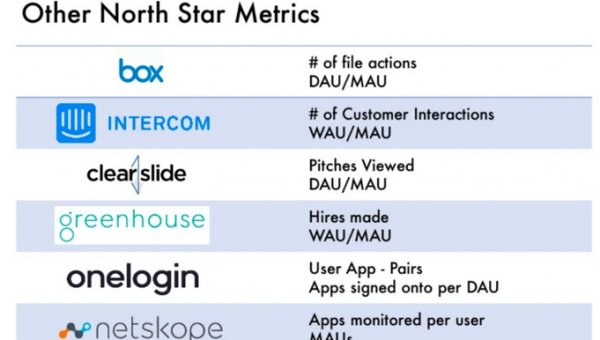 Source: Social Capital
2. Perks in addition to operational data
(1 ) Bonus points on the market level
Market leaders: After achieving a leading position, a company will possess an abundance of call-in sales leads and bidding invitations, thus it may experience a drop in CAC. In the current competitive domestic market conditions, it seems that the only way to win is to "bite the bullet" and endure.
Many entrepreneurs feel frustrated at the sluggish speed at which things develop in the market and attempt to change course or reinvent themselves. However, we think that those who keep their cool and continue to create value for their clients often succeed in market monopolization after 5-8 years.
However, it is essential to note that as a company enters the middle and later stages of development, it will face fierce competition, and its product pricing system will not be able to defend against revenue losses. Therefore, the ability to assess the up-sale capacity of new products offered by this type of enterprise is crucial.
Mobile scenario: It supports B-end mobile work scenarios and provides multiple end-products. In comparison to the traditional B/S product structure, its development threshold is quite high. However, with the integration of WeChat at Work and WeChat Mini Programs, enterprise mobile application development costs may decline in the future.
Payment access: As capital flows through the company, there are opportunities to provide data and offer financial services in the future.
Trading market:  Vertical industries have relatively better opportunities to enter the supply chain and adopt an S2B operation mode.
Integration of hardware and software: Through integrating IoT devices as a form of raw data collection, the value of software can be partially reflected within the sales price of the hardware, and the data collection capacity can serve as a barrier.
AI: A new means by which value can be drawn from data.
(2) Additional notes on sales
The most significant challenge facing SaaS companies in China is how to sell products, so here are some additional notes on the topic of sales:
The depth of a customer's "resources" and whether mining is environmentally friendly: "Resources" in this particular context refers to a company in possession of a list of potential clients at a certain point in time. It can also refer to a large market, but the number of leads and the number of key contacts that venture companies have access to are always limited.
How can "leads" be obtained on a continual basis and distributed equally among sales teams? How can an enterprise avoid only internal sabotaging as teams compete for performance? These are areas which require conscious thought and timely oversight by sales management personnel, in addition to tracking sales team performance and customer conversion within the pipeline.
Should an enterprise pursue sales from family and friends? When things start to cool down during the inception stage of a start-up, it may be tempting to sell products to the founder's circle of acquaintances and companies belonging within the same investment institution. However, once the enterprise establishes an effective sales team and revenue begins to rise, it should pull back on orders from friends and relatives, and start distinguishing between customer contacts from friends and relatives. This way, it can avoid forming an overly optimistic perception of the product-market fit and sales conversion rate.
Are incentive mechanisms reasonable and sustainable? There must be conscious control exercised over the compensation of salespeople. Commission expenditures are the fuel that propels the workings of the entire sales system; however, companies should be conscious of this cost.
If a salesperson is earning a talent market value of RMB 15,000 per month, but is making RMB 30,000-50,000 on monthly sales commissions despite closing a low number of deals continuously, this usually indicates that the sales incentive policy requires an overhaul. Managing the sales team's commission expectations requires tact, and sales teams should be continually motivated to "stay driven and stay hungry" to drive sales, instead of becoming complacent over time.
Do distributors actively recruit people to expand their team? Domestic distributors involved in the sales of enterprise-related service products are discerning and tend not to take action without an incentive to do so, and they often sell a combination of marketing and enterprise-related service products.
CEOs must pay particular attention to trends among their own product lines such as changes in the number of full-time sales personnel. Evidence that the sales apparatus is functioning successfully is when a product sales team maintains a net increase of personnel and even veteran salespeople who sell a different product line altogether wish to transfer over to another sales department. Of course, there is the possibility that distributors in tune with the company's financing pattern might stockpile goods and falsify billing slips. This requires conducting a review of core usage data after enterprise users are on-board.
(3) Additional notes on internal management
Do you genuinely believe in your own product? A SCRM company, for example, should at the very least utilize its own product when managing its own sales leads.
Internal system informatization: Which company's system should you choose for research and development, sales, collaboration, and even telephone conferences? These choices are noteworthy – the degree of systemization in terms of internal management in SaaS companies ranks quite low, and if a company lacks an understanding of best product practices in each sector, then the odds are that the design of its own products one will be affected by tunnel vision.
Does your company have digitalized operations mechanisms?  Does the CEO have sufficient data to evaluate the company from both an internal and external perspective? Overseas, there are products such as Gecko Board and Baremetrics to serve this task, which are relatively mature professional BI products geared towards SaaS companies. For a marginal cost, you can monitor your company's global data, and early-stage companies can be guided in establishing operational systems catered to their needs.