Source Code Capital Partner, Huang Yungang (Samuel), returned to his alma mater, Zhejiang University, and shared his 10 years of investment experience with junior schoolmates.
The theme of his speech was "A Dialogue with Future Entrepreneurs." Zhejiang University is known for its strong entrepreneurial and innovative spirit. Huang Yungang is also known as "the investor who has invested the most from Zhejiang University entrepreneurs" and "the investor who knows entrepreneurs the best."
Samuel said that choices matter, whether with regards to employment or entrepreneurship. You can either choose to set up a small business, or you can establish a start-up and try to make it grow in the future.
Success requires regular practice: stay aware, think deep, and control your emotions. Never stop being curious, and always look for the best answer.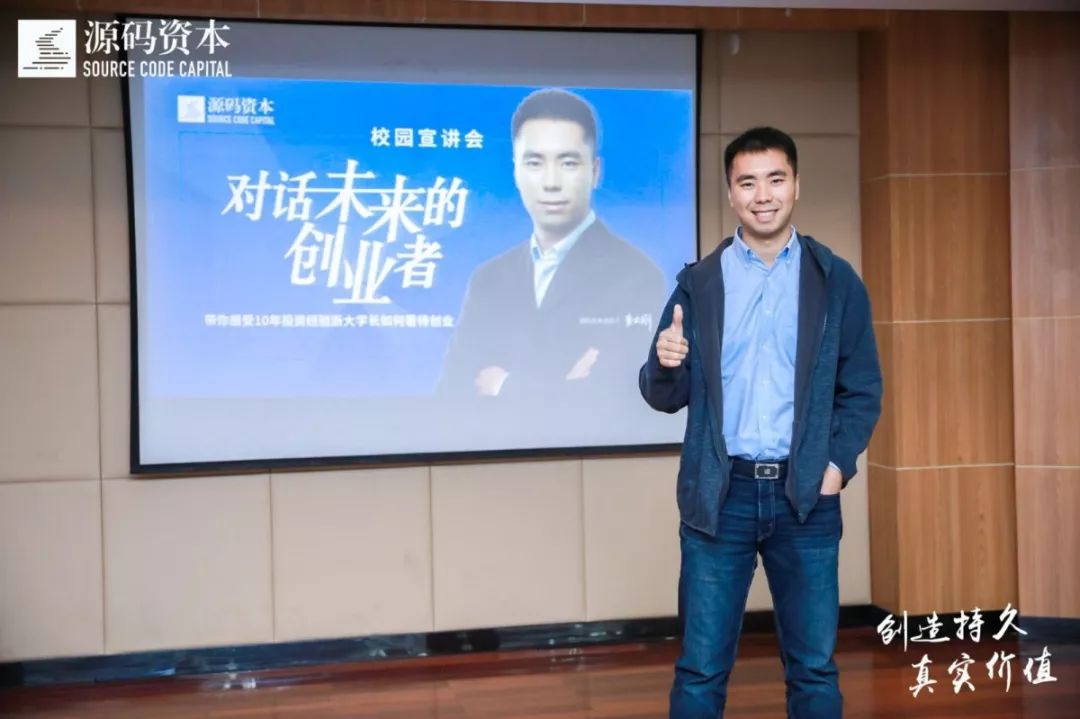 Mr. Samuel Yungang Huang joined Source Code Capital in 2017. With over a decade of experience, Mr. Huang is a veteran in venture capital and investing. He has deep expertise in corporate strategy, organization structure and design, talent recruitment, market planning, and corporate finance. Having witnessed the evolution and impact that the Internet and new technologies have had on multiple industries, commerce and platform companies, he also has a deep understanding of economic and innovation cycles. In 2018, he was chosen as "2018 China's 100 Best Investors Voted by Entrepreneurs" and "2018 China's Top10 Online Education Investors" by 36Kr Media. Mr. Huang previously served as Managing Director for Matrix Partners China. ​
Mr. Huang graduated from Zhejiang University with a Bachelor's in Business Management, and is one of the first recipients of Zhejiang University's Master's Degree in Entrepreneurial Management.
Quotes:
My wish is that, when an entrepreneur finds himself in a difficult situation, his reflex will not be to call his wife or partner, but to call me.
The title "the investor who knows entrepreneurs the best" was given to me by others, and it is a goal I keep pursuing ardently.
No matter what time it is, receiving a phone call where I can help resolve problems and fight together with my entrepreneurs, that is one of my favorite situations to be in.
What is deep thinking? Staying curious, keep wondering, and relentlessly search for the right answer.
Excellent CEOs share several common characteristics: long-term thinking, truth-seeking, openness, and a focus on execution.
The following is the full transcript of Samuel Huang Yungang's speech:
First, "Seeking the Truth"
Good evening, everyone. When I entered Yongqian Building tonight, I remember what happened to me over 10 years ago. I came in here with a resume and I listened to a campus lecture given by an alumni. Then, in 2009, I began my journey in the Internet and Investment industry. It has been almost 10 years now. At that time, people were still using NokiaE63 and N95.
I graduated and started my investment career soon after. At that time, when entrepreneurs asked me when I graduated, I was too embarrassed to answer, being so young, and afraid of what people might think. Today, many entrepreneurs ask me that question, and somehow, I am still embarrassed because now, I am afraid to be too old. Today's Internet entrepreneurs were born in the 1990's or even after 1995, and we are seeing more and more even younger ones.
Why did I choose the "Dialogue with future entrepreneurs" topic today? Imagine that, in the next five or ten years, you are likely to embark on the path of entrepreneurship, or join a start-up company. Five years or ten years from now, say we "travel" back to this specific moment, how would you decide, plan, and recognize entrepreneurship? I think I can provide you with some insights and knowledge, and hopefully serve as an inspiration to you.
Back when I was a student, no VC would come to the campus to give us lectures, because venture investing was still a very niche industry.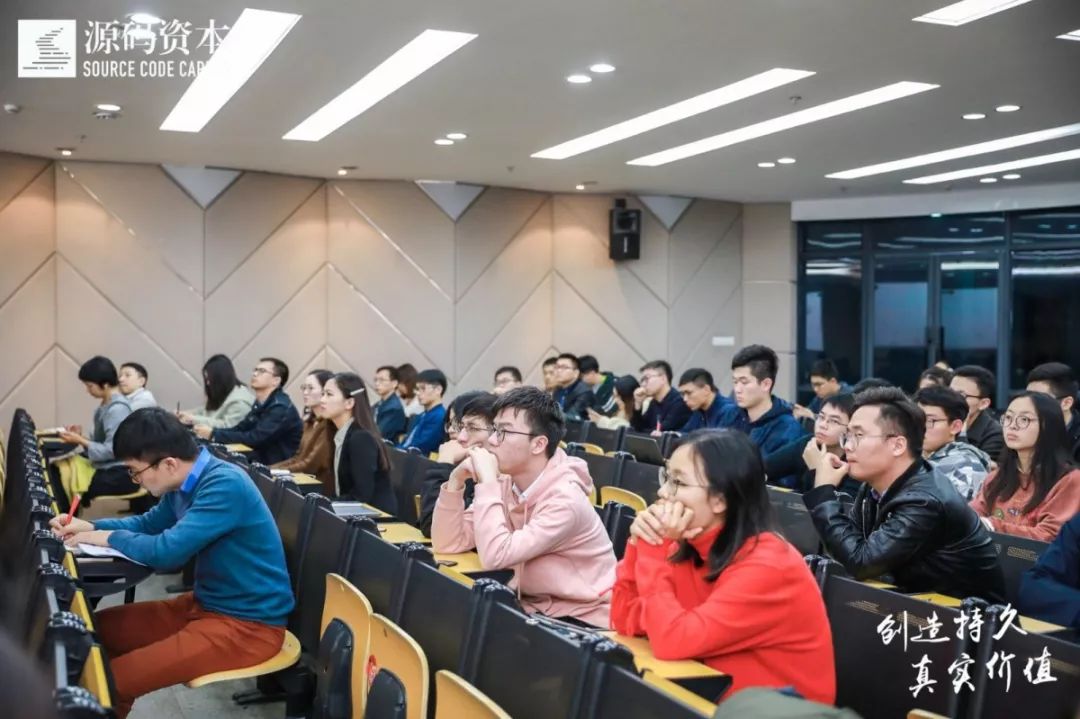 The rise of the Internet industry over the past decade has greatly helped the development of the VC industry. The first VC fund in China came about 20 years ago. Then back in 2005 to 2008, a large number of VC-backed companies were established and thrived over the past decade. VC is now one of the pillars of the Chinese entrepreneurial market.
Do you know the approximate market value of Sina, Sohu and NetEase back in 2004 and 2005? Looking at BAT, Meituan-Dianping, Bytedance today, we can say that the Internet has not only dramatically changed the market value, but, it has also profoundly changed the lives of people, and produced far-reaching influence and value.
Source Code Capital is also an early-stage investor in Bytedance and Meituan-Dianping. The valuation and the development speed of these two companies is beyond imagination, even in Silicon Valley. The entire Chinese New Economy, the information technology industry, and the investment industry all are extremely prosperous. You may not have experienced the Second World War, but it doesn't mean that you cannot study it, in order to better understand what happened. The same applies to the changes in the Chinese Internet industry landscape. You may not have witnessed it, but you can still find out more about it in order to better understand it.
Second, How do we Find and Invest in the Next "Kuaidi Taxi"
The motto of Zhejiang University is "seeking truth." When I was studying, I did not really understand what seeking truth really meant.
I graduated from the Management School back in 2008. After my graduation, I started my career in investment. I slowly started to understand what "truth seeking" meant. When I was doing value investment in particular, I found excellent entrepreneurs, and I found how important the spirit of "seeking truth" and "thinking" are.
You will find that good entrepreneurs have the ability to "seek the truth and be pragmatic." They are able to penetrate through to the essence of things, to better comprehend the underlying logic of the business.
Since 2013 after I invested in a taxi platform (Kuaidi Taxi), I have also considered and evaluated a lot of industries or companies transformed by the Internet.
Have you ever thought about this: in fact, the evolution of portal websites, mobile games, e-Commerce, taxi software, food delivery platforms, finance and payments, and paid subscription, all have their own timelines.
At first, it started with portal websites, then the games and the e-Commerce boom followed. Taxi software appeared in 2013, and became popular in 2014. The food delivery platform and large-scale O2O development started back in 2014 and 2015, and then Internet finance came about in 2014, 2015 and 2016.
Its evolution is generally from simple to complex. From a very simple industry to a complex industry, from high frequency to low frequency, from simple decision-making to complex decision-making. For example, if you look at a single piece of information, it is easy and you don't need to make too many changes. However, if you want to get involved in the food delivery business, you actually need to fully understand the catering business and how it affects the whole industrial chain.
It is absolutely mandatory to study intensively every industry's development patterns.
There are many skilled analysts in the public market, such as in the energy or the automobile industry. However, when it comes to the Internet, it becomes very difficult to find proficient industry analysts. Why? Because it is still developing and changing too quickly. In that particular industry, changes are substantial every three months.
Therefore, we need to experience its products as a user. Experience the service process, find out the underlying logic, and understand its business model. In the absence of precedents, deep thinking, analytic and research abilities are extremely valuable.
After graduation, I moved to Beijing, and stayed there for a short time. After that, I went back to Shanghai. At the time, I was often taking the high-speed trains, from Shanghai to Hangzhou, to check on projects and meet with entrepreneurs. Sometimes we would meet on campus, other times to Zijin port or Yuquan.
At that time, I made many investments. There were also many alumni of Zhejiang University in the founding team of Kuaidi. I suppose you can say that I was the investor who took the high-speed train the most. I am probably also "the investor who has backed the largest number of Zhejiang University entrepreneurs."
To have "empathy" with entrepreneurs means that you have to know, from your heart, that entrepreneurship is strenuous. We might not have experienced it, but there are ups and downs in entrepreneurship. There are peaks and troughs, and it is easy to feel you are at the "top of the world" when you are at the peak. If my work goes well, I would feel quite good about myself. When I start to feel too good and too sure of things, then it's very easy to make mistakes. As an investor, my job is to remind the entrepreneur when he is cruising too lightly. Don't be too self-confident, or too satisfied, because there is still a long way to go.
When an entrepreneur finds himself in a difficult situation, or is at a certain low point, I hope that his reflex is not to call his wife or partner, but to call me.
This afternoon, before I got here, I met with an entrepreneur. He started his enterprise over a year ago and spared no effort. He found out that in his industry it is very difficult to start a business with strong rivals. He found out that it might even be too hard to carry on.
He can't say that to his partners or co-founders. He is the CEO and therefore cannot say that the project is probably not feasible, because the team might be disheartened. In front of his partners and employees, he needs to act as if the company is doing well, while thinking about ways to solve the problems. He chose to tell me. I listened to him and helped him. The title "the investor who knows entrepreneurs the best" was given to me by others, and it is a goal I have and continue to pursue ardently.
No matter what time it is, receiving a phone call where I can help resolve problems and fight together with my entrepreneurs, that is a state in which I enjoy being in.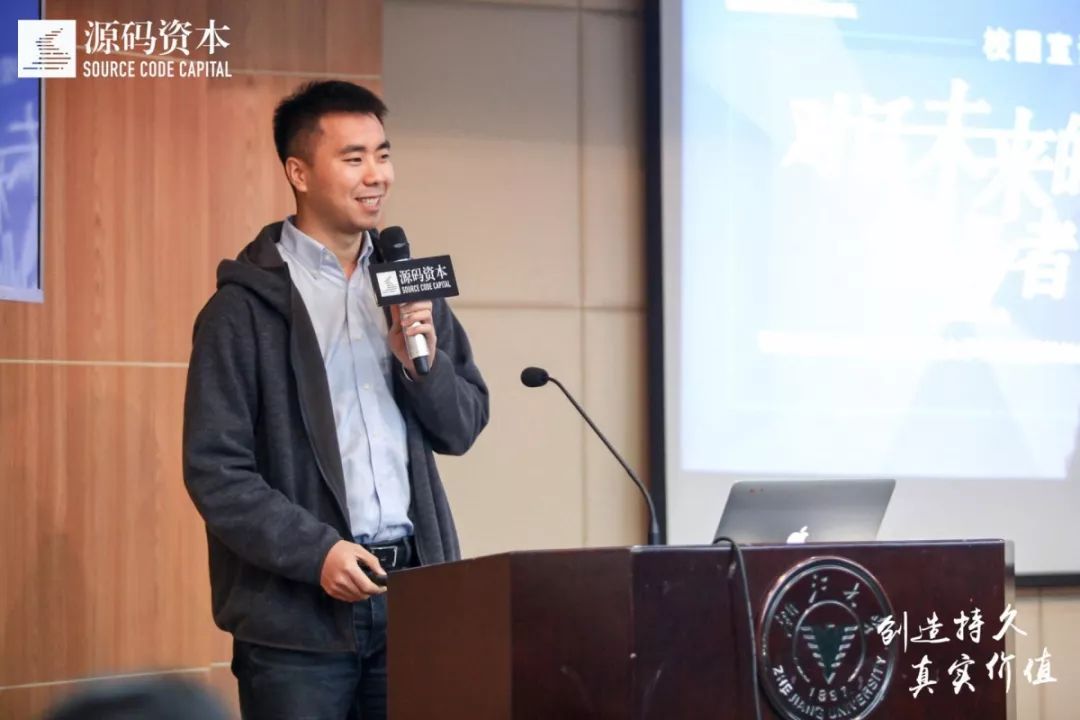 Third, Doing a Small Business or a Start-up
Whether you are joining an existing company as an employee, or starting a new business after your graduation, the choice will matter. What kind of market you are going to choose also affects how much opportunity you will have.
This is a picture that I often refer to as the "Three Fundamental Drivers" investment map, summed up by Cao Yi, the Founding Partner of Source Code Capital.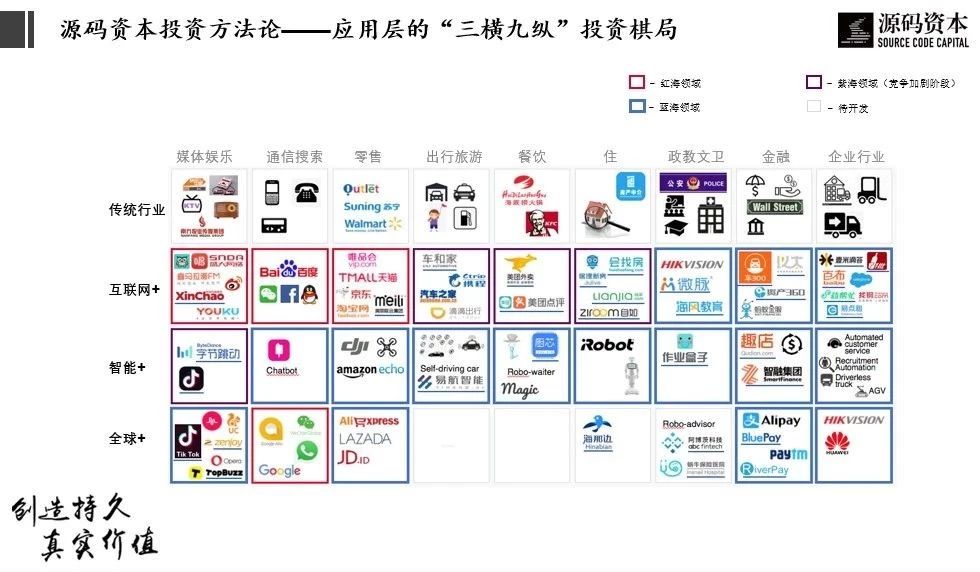 We can see from vertical axis in this investment map, how media and entertainment, communication, retail, transportation, catering, and various other industries, have changed. For example, today there are a variety of new companies in the education industry, and new supplies have emerged. The fundamental drivers of "Internet+," "AI+," and "Global+," have profoundly transformed these industries and created new products and services. Every grid is a market.
Areas highlighted in red, such as portals, search engines, social media, and e-Commerce, are already saturated. The giants are already in place, and they keep growing. In that case, is there any room for new enterprises? Maybe, but chances are low and the path to succeed will be incredibly difficult.
Overall, we believe that inside our investment framework, information technology will bring about change for various industries. The changes brought about may come now, or later, and the rate of change may be faster or slower. Individual companies created within different grids will also see larger ones, and smaller ones.
The deli shop downstairs is also a business. But whether it is the market you should invest in or not, that is a decision you should think carefully about.
In February 2015, Kuaidi and Didi Taxi announced their merger. On one hand, I was a little frustrated, even a bit sad, but on the other hand, the merger decreased cash burn from both sides, and allowed the newly merged company to be even more dedicated to providing users with better services. I was happy about that.
Later on after the merger, I had a chat with the COO, and what he said made a long-lasting impression on me. He said that in fact, by only using 200% of the effort made by the others, we got a 2,000% return. Why? Not because we were good, but because the road we chose was the fastest.
How do you make choices?
Source Code Capital's motto is "creating enduring real value." This is the way the Source Code team does things and is our investment creed. What we want, is to invest in companies with real significance and help them create real and lasting value.
In order to make the best choice in terms of choosing industries, and the best choice in term of investments, I can share with you three pieces of advice:
First, create real value. When many CEOs start a business, they choose industries that may not in reality see a lot of demand, they just fantasized it.
Understanding whether the demand is real or not is actually very difficult. Many times, people feel or think that there is a demand. However, in reality, the demand is very localized, completely heterogeneous, and does not represent the needs of the general public. For example, before Tik Tok was created, if you had asked someone whether or not they would be interested in a product like this one, many users would have said no. Right around when taxi software emerged as a product, I recall that when I went to do research, I asked someone if he would use software to call a car if he was provided with one. He said, "no, why should one use a software to call a car?" The demand may be high, it may not yet have been developed, and might not even be required. The real demand is what matters the most, as well as who will be able to create real value out of it.
Second, lasting value. In addition to being genuine, value needs to be lasting. Does the demand really exist? Does it have potential for long-term existence? Is the company model sustainable and has its "cost structure" been established?
For users who are users only because of cash subsidies, their needs may well be non-existent. For example, taxis. Some people usually do not take taxis, but because the subsidy price was set to RMB 13, they started using cabs. Will the company continue to promote such subsidies? Obviously, this demand from subsidies is not real as it is not sustainable. How can you spend money to create and meet illusory needs? A lot of sponsored interactions are not right. Whether the company's business model can be sustained for a prolonged period of time and continue to provide high-quality services, while maintaining lasting value and sustainability, is very important.
Third, create enduring, real, grand value.
Many problems that enterprises solve are small issues. VCs should pay attention to solving big problems and make great changes. To create change from the fundamentals, to link basic principles together to impact a big market, that is to create real, lasting, and grand value. As for investment and entrepreneurship, it is the best to choose an industry that meets those three characteristics. By doing so, the company will be able to continuously provide high-quality and real services.
The size of the market can also be underestimated. While some entrepreneurs sometimes underestimate their own market, sometimes, some overestimate it.
In my early days as an investor, I strongly believed in the judgment of entrepreneurs. When an entrepreneur came around and talked about the market, I believed that because he worked so long in that industry, he must have done a lot of research, and I always listened to him. Later, I found out that more than often, this was not the case. For example, the taxi market. At the time, everyone thought it was a $1 billion business. Later, it turned out to be a $10 billion or even a $100 billion market. But at the time, no one knew for sure which one it was going to be. Transiting between underestimation and overestimation is inevitable, just as in the taxi market, which then extended into a much larger on-demand chauffeur and ride-hailing market, and continued to get bigger.
Some entrepreneurs also talk about a small business as if it is a big one. For example, when O2O was popular, he used to say that he was providing online car washing for a trillion-dollar-worth automobile aftermarket. I asked him whether his business included car repairing. If not, how could you say that it is a trillion-dollar market? The car washing market may be only worth tens of billions. The automobile aftermarket is indeed huge and in trillions, but he was only a small part of it.
For entrepreneurs, not every company should choose to grow bigger. Some industries cannot create big companies, and some models just do not scale. In that sense, Jack Ma did say that sometimes it is ok to be small and efficient
The key is to look at both the market and the industry, and to introspect oneself. Desperately financing a business that will never grow, feeling increasingly anxious, is actually worse than running a small and efficient business. Size is not a matter of right or wrong, it is a choice that should be made after calm and rational thinking.
We have to distinguish whether the market is big or small.
What kind of business can grow bigger?
Several considerations: the network effects, the scale effects, and the brand effects.
The more employees a company has, the stronger its network will be. That is the case for social media, e-commerce, logistics networks, generally typical Internet companies. The stronger a company is, the greater its network effect, the more advantages it can have.
Some things can be scaled, and some things can be kept small, and does not have to become too big. There will still be a need for a deli. As long as it is unique, there will be a demand for it.
If you start a business in the next five or ten years, or start a job in a company, you must first think whether the company meets this standard. In order to know what kind of businesses are going to grow and identify future booming industries, we need to think about the points I just shared.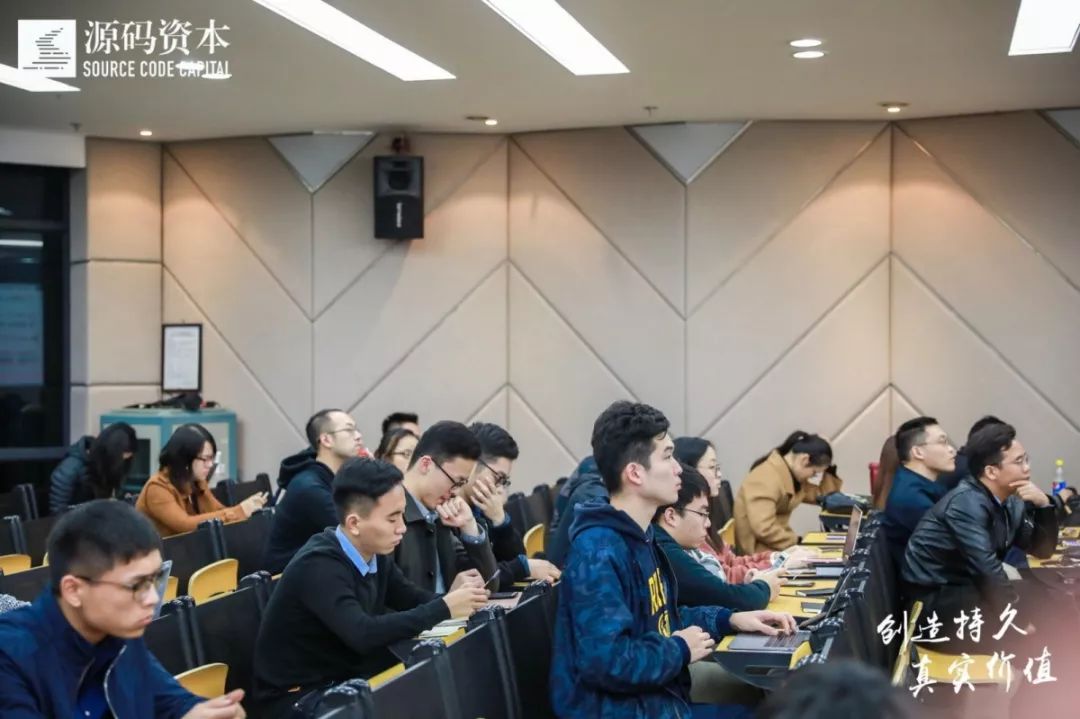 Fourth, Success Requires Studious Practice
Every failed entrepreneur failed in his own way, and every successful entrepreneur succeeded in his own way.
I think that excellent CEOs share several common characteristics: long-term thinking, truth-seeking, openness, and a strong focus on execution.
Seeking truth and opening up, some people cannot take advice. If you say why they are not good, they will immediately begin to resist and be on the defense, instead of seriously thinking about whether or not the questions raised by others are valuable or meaningful.
Come a certain stage, many people become conceited, and become arrogant after overcoming small difficulties. In truth, their success is largely due to the industry, their team, and luck. Many get rather proud without even understanding how they became successful. After arrogance, vanity follows. After this happens, the team and other people will not dare to critic this person negatively, and instead will start flattering him. The less an entrepreneur can see a problem, the higher the possibility of a crisis.
Long-term thinking is the same. Now why talk about delayed gratification and achieving more goals? Because some people become easily short-sighted at a certain stage, and will start to harm the long-term goals of the company by focusing too much on medium-term and short-term goals.
The method to set long-term goals is long-term thinking. If you just graduated, your goal is to buy a house near Beijing's Fifth Ring Road, or to buy a house in West Lake District in Hangzhou, but it is possible that your life route is completely different.
Long-term thinking allows for more open and flexible adjustments. There should be no boundaries to enhance awareness, or to strive for better execution. This is what we believe the best entrepreneurs possess.
When thinking the right way, we have the opportunity to make better judgments.
First, always be curious, but curiosity itself is not enough. Keep wondering, and relentlessly look for the right answer.
How to achieve this step by step? It is quite simple. The key is in small questions. For example, when I was driving from Hangzhou to Shanghai today, I was wondering, why is the highway and the high-speed rail so close to each other? Why not build them far away from each other? Why are there so many billboards next to the highway? Are those billboards valuable? Sometimes there are a lot of advertisements on the billboards, and sometimes less. What are these ads for? Alcohol, health products, textile… I was curious. Which industries need to advertise more, which do not advertise enough, and shall they do it here? I will just keep pondering on some things. Some people need two hours, others only need five minutes to understand the in's and out's of a problem. It takes some three to five days, others, three or five months to think clearly. Some questions are complex, and answers might remain elusive for three or five years. I have a process in which unclear things or unanswered are printed somewhere in my mind, and I think about them from time to time. If I still have no idea, I will put it aside and continue to focus on my work.
Every time I ingest information and process my thoughts, it is a reward and an opportunity to grow. I create those opportunities. You will encounter many opportunities to better yourself in your daily life and your work routine, you don't need others to create those scenarios for you.
Second, don't simply jump to conclusions, think more.
For example, when we were thinking about investing in taxis, many investors and entrepreneurs did not follow us because they had doubts. For example, using a software will never be as good as hailing a cab from the sidewalk. The online cab may be 5 kilometers away or half an hour away, but stopping one on the roadside may only take 15 minutes. The more cabs, the better the density is, but doesn't it also take 30 minutes? This was a very easy problem to solve, though many people did not think of it. Many people thought that drivers would not be using taxi software. Why? Because network data prices were too high. What is the problem with the mobile network data? If you use this software and make RMB 2,000, paying RMB 200 for the network is still worthwhile.
When I interviewed a driver, I asked him whether he would use a taxi software. The driver said no because of the cost of the mobile network data. Then he was asked whether he would use it if promotions were available, he said yes. The next question was whether or not he would use the software if the software was not free. "Not free? No, I won't use it even with promotions then, why would I pay a fee!" The driver really answered like that. I told him, if I created the opportunity for you to take a passenger to Xiaoshan Airport, and charge you RMB 10, would you take it? He thought about it and said yes, RMB 10 would work. It is fascinating how you ask questions. A ride from here to Xiaoshan Airport is over RMB 100, so he would definitely accept paying the RMB 10 fee. To conclude on this matter, it is very important to use a deeper level of thinking, to keep pondering over things in order to solve doubts.
Third, it is easy to point out problems, but it is difficult to solve problems, especially in investing.
It is easy to veto a project, because there are too many problems affiliated to it: start-up teams, business models, market choices, competition, financing…
But it is hard to be sure of what you are going to do when you say it is going to happen. It is the same loneliness that entrepreneurs feel when they are moving forward on their own.
When investing, emotions may also influence your decision-making, just in private capital. Your emotions will greatly affect your decision-making.
Focus on long-term strategies and perform short-term actions well. The Art of War has a chapter dedicated on how to fight: "What the ancients called a clever fighter is one who not only wins, but excels in winning with ease. Hence his victories bring him neither reputation for wisdom, nor credit for courage. He wins his battles by making no mistakes." The people who know how to fight are usually not recorded in history. Because they fight too well, and win overwhelming victories, and therefore the battles are not exciting. Investing is the same thing. If you work in a down-to-earth manner, and advance steadily, the success comes at a certain stage. Cao Cao commented in The Art of War that, "a good warrior does not have illustrious prizes." It is the same with our work. It is a good tactic to concentrate our power on destroying the enemy, but we should not take uncalculated risks.
Investments must make rewards, but at the same time, it must be relatively "pure." We should not focus only on money. We should not ask entrepreneurs how this business model is going to make money, not on the first day. Many traditional investors ask how the business makes money. The Internet is usually a "free + value-added" model. It does not make money at the beginning. As long as it creates value for users, it becomes profitable. This has been proven by many companies. For example, Tencent, or taxis, did not make money when they first launched, but made big money later down the line. The core thing is to create value, and its business model evolution will be natural.
Kung fu goes beyond poetry, materialism is also idealism.