Author: Zhai Wenting, Blue Hole Business
A stranger wrote a private message to Cao Yi on Weibo. He introduced himself as doing a fabric wholesale business in Guangzhou and wanted funding.
At that time, back in 2014, Cao Yi had just left Sequoia China, and practically just set-up Source Code Capital. He decided to go for a trip. He flew to Guangzhou with Source Code colleagues and stood at the wholesale retail district entrance next to the Sun Yat-sen University. The scene in front of him was fascinating.
More than a dozen buildings have risen from the ground, each building floor had one owner, and each floor was divided into dozens of hundreds of stalls leased to merchants. A single ten-square-meter stall was rented for RMB 2 or 3 million a year. The owner's annual income was over a billion RMB. This was the offline trading market where money never sleeps.
Yet Cao Yi knew that this model would eventually shrink or even disappear. Who could take over and transform it into something more valuable? The answer had to be going online. To paraphrase using today's buzzword, this is the "industrial Internet."
Having arrived at the "headquarters" of the fabric trading market, might as well get in touch with all the players (in addition to meeting with the original inbound). Another B2B fabric company caught the attention of Source Code Capital's Zhang Xingchen. This company's core founding members included veterans from Alibaba, Meituan, VIPShop, who own 25% of shares for a few million dollars. This is Baibu, Source Code Capital's first Industrial Internet investment. Fast forward to August 2019, Baibu just completed its C1 round of investment, raising USD $30 million. Its valuation had long since doubled.
From then on, Source Code Capital began to systematically sort out its industrial Internet investment layout. Cao Yi proposed an investment roadmap called the "Three Fundamental Drivers" (a 3×9 investment matrix). It englobed all possible online industries like media, entertainment, communication, retail and travel. It was established on the premises that "Internet+," "AI+," and "Global+," will inevitably drive and transform the services-based B2B industry.
They were one of the first explorers to penetrate the industrial Internet jungle. At that time, many To B projects did not catch the attention of Chinese venture capitalists, therefore there was little competition among investors. It was a pioneering state.
Today, Source Code Capital's industrial Internet portfolio includes companies such as Yijiupi, Edianzu, Yimidida, Xiao Yao Yao, Baibu, Ruigu Shop, ZSKX, ZS Fucai, YQNLink, Chuxin, and each has become a leader in their respective industry.
After a huge influx of money into To B industries, hidden challengers appeared. This is the landscape of the 2018 venture capital circles. Tencent transformed permanently the perception of the industrial Internet and as the Chinese say, "added oil to the fire." The number of investors checking out 2B projects increased significantly, and letters of intent became more and more assertive. From then on, the valuation of those popular 2B companies increased continuously.
If you go through the brief history of the industrial Internet, most To B pioneers have become big winners. They have done so in a period of time as short as three to five years, and at most within a decade. But, prior to that, they were all anonymous to outsiders.
Like the Internet giants that we are familiar with, they used to be rule breakers, value creators, and precursors of a new order. This is the other little-known side of the Internet revolution.
If we are to understand To B from the perspective of the Internet user's consumer needs, there are several considerations to examine in a more detailed way:
The infrastructure of the Internet, such as the server, the cloud terminal, as well as the online management of internal administration. IaaS is considered to be the best business solution, but it is only used by Alibaba, Tencent and other giants. Start-ups should stop thinking about it. There are, nonetheless, huge opportunities for innovation and entrepreneurship if we look in the direction of SaaS. In addition to that, the expanding demand for corporate office space, software, and hardware solutions, created a lot of opportunities for numerous new companies. In the last few years, the increased demand for shared office space and computer rentals are the best testimony to that assertion.
The circulation link (i.e., the distribution) is the online collection of different flows of information and business processes. Before leaving the production or warehouse site to go to the stores, a product goes through a few intermediate layers where the access to information start to be difficult. For example, prices as well as other important data become opaque. The use of Internet directly kills intermediate layers, from batches to stores, and even from manufacturers to small shops. This part of the process can be transformed, and there are many opportunities for entrepreneurship in it.
But where is the next giant, parallel to the Consumption Internet, most likely to appear? Source Code Capital's Wang Xingshi has the following answer: in trading.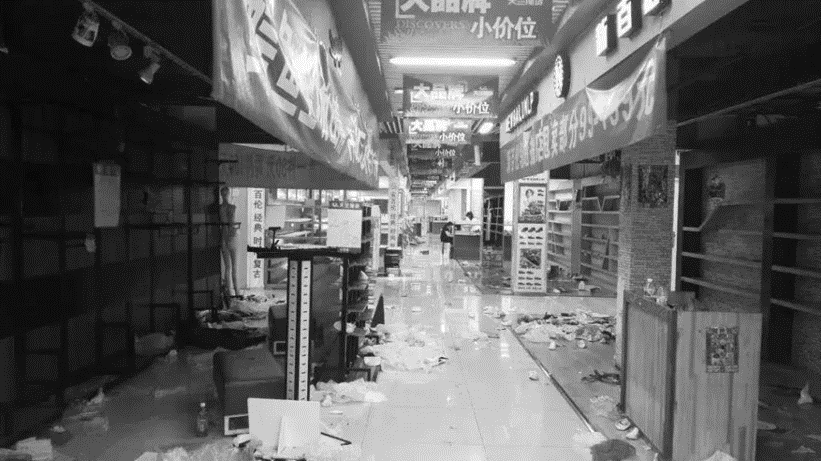 Almost all major companies in the consumption Internet space are also "trading platforms." Alibaba, JD.com, Didi, and Meituan are no exceptions. Source Code Capital, following the principle of its investment roadmap, makes the assumption that the industrial Internet should also be looking towards an online trading platform.
Alibaba and JD.com, two of China's biggest e-Commerce giants, and other vertical e-Commerce companies, only represent 20% of the retail market, as 80% of the transactions are still done offline.
Take liquor consumption for example. In a market of nearly a trillion RMB, the online retail sales only account for tens of billions, which is, in that case, almost negligible. It means that, still, the majority of the liquor is sold through millions of offline stores.
These small stores have not been destroyed by e-Commerce. They have, of course, their own unique value and right to survival. Their service radius is generally small, the number of customers are stable, and they have a strong relationship with them, which is difficult to replace.
Before investing in Xiao Yao Yao, Wang Xingshi went to see its stores in Hubei. After visiting, he knew that the Chinese local pharmacies would be difficult to replace. Those were typical shops, privately own, there was no real estate agent nearby, indicating that the rental turnover rate in the area was low. The road was under construction, but business was not affected by it at all.
Local channels are not easily replaced by Internet, but they can be improved by it. They need the Internet to fill in the gap of information asymmetry. Then they can find better, cheaper sources of supplies, provide more services, and therefore increase their income.
The upstream brands are also happy with this new-found success as they can get more precise data sales and user portraits – all of which they had been looking to get for some time.
This is the natural ground where B2B and the Internet meet. The newly found possible opportunities will not disappoint the adventurous investor. The B2B platform also extends upstream to allow for reverse product customization, and even original brand development. It also makes possible the emergence of a financed supply chain. Meanwhile, looking downstream we can reach the C-end users and dock with traffic platform. The premium is considerable.
Ma Hua Teng had asked a question previously on Zhihu. What will change when industrial Internet and consumer Internet open up and connect? As the connector between both B- and C- end customers, Yimididi can answer this question through its actual business.
"Based on those two sides (B and C), logistics companies can realize more complete data collection and application. Therefore, they can build more accurate user and industry portraits. This will ensure more detailed and timely data support for both upstream and downstream users, thus, entering a larger cycle and achieving closure," says the Yimidida Founder, Yang Xingyun.
On the account of online relationships between factories and consumers, Cao Yi calculated, more than 10 industries have the potential to create a RMB 500 billion marketplace just from the circulation or distribution processes.
Please note that this figure is only the value generated by a single vertical industry, such as consumer goods and pharmaceuticals. With players scattered around the country, there are tens of thousands, or even hundreds of thousands possible companies that could participate in the split. If this intensive process reaches completion, the top two companies could make hundreds of billions. Scaling is not a problem in that scenario.
If the scale is not convincing enough, then let us look at profit. The lowest one will be around two or three percent profit margin, the highest one four or five percent. On a RMB 100 billion scale market, that would still yield RMB 2 to 3 billion in profit, and this is net profit.
The business channel for online is like taking someone's pulse. We can feel all the data and systems it can reach, and see money flow from the heart to the capillaries.
After investing in Baibu, Source Code Capital began to systematically sort out B2B transaction models for different industries. The idea for investing in To C is the same, look for prototype offline, and then bring it online. This included checking for potential stocks in pharmaceuticals, fabrics, industrial products, auto parts, and agricultural products industries. Source Code Capital invested into such businesses in FMCG, pharmaceuticals, fabrics, and industrials, with portfolio companies like Xiao Yao Yao, Baibu, Ruigu as examples. In Infrastructure and logistics, Yimidida and Yunquna are other investment examples.
However, let's not think that holding this map is a magic solution. Investing in B2B is, to a certain degree, like walking into a no-man's land, and there is always the probability of encountering a blind spot.
Cao Yi analyzed the reasons for this. First, most of the models have not been verified, and they need to be tested over and over again. It is also most likely that they will take another path of development. Different industries have different models. The source of the company may switch between self-operated (proprietary) and platform modes, but also experiment in the production and the To C space. Industry and Internet experts are two very different kinds of people, and when working together, it is inevitable that there will be conflicts. It takes time to learn how to work together. Cao Yi said, "it is necessary to recognize the differences between industries, find commonalities, and understand individualities."
However, once the industry leader is within your grasp, unlike in To C, where there is a risk to be replaced, the To B model is difficult to subvert in a short period of time.
Edianzu: Only veterans can do it
No one denies that the To B market is a gold mine, but only a few have the maps and tools to find its wealth. But in To C, where one needs to rely solely on capital and speed to succeed, To B winners also need to be the first to get there, they need to be pioneers.
Ji Pengcheng founded Edianzu back in 2015, it is a B2B company that provides a flexible rental of offices computers and software services. As of today, Bytedance, Leading Ideal (aka CHJ Automotive) and other companies are using Edianzu's products. If you are to rent a few of their materials units, use them as long as you want, there is no return time limit.
Edianzu went through six rounds of financing in three years. Back in October 2018, the company received in a D round, a USD $60 million investment, led jointly by angel investor Source Code Capital and a sovereign wealth fund.
Strictly speaking, Ji Pengcheng has been working in this industry for the last 15 years. During his post graduate study at Tsinghua University in 2003, he was already engaged in the second-hand computer business, buying and selling old computers. At the time of his graduation, he was already the largest second-hand e-Commerce computer retailer in China.
The To B market is relatively fragmented and they are the leader in this industry. "My life was particularly comfortable," revealed Ji Pengcheng. "I only needed to spend two to three hours at the company every day, our customer base is stable, we have no competition, and the annual profit is up by 20-30% yearly. The only problem is that the ceiling is too low and therefore, it is difficult for the company to grow bigger and scale."
The advantage is that second-hand sales and leasing are only separated by a glass wall, a natural step is all it takes to transition the business. Edianzu's transformation into a computer-leasing operation is logical. The previous cumulation of knowledge allows the company to already possess many core skills: from trade-in to distribution, maintenance, software services, to final product processing. The entire industry chain is covered and self-sustainable.
By the way, they also are the only company that can offer credit to enterprises. The data gathered on the platform allows them to create their own risk control capabilities.
Such companies do not need to burn money to achieve growth. Their demands for capital vary. Edianzu has now a micro-profit status, and the money it has raised in prior rounds is basically used as margin protection for bank loans.
Wang Xingshi said that the main reason as to why Source Code Capital invested in the company was the huge potential of its entire IT services platform.
However, some investors regard Edianzu as a banking company. Ji Pengcheng smiled and responded, "Many people think that we are in the same industry, selling computers, maintenance, software service providers, even financing. In essence, you can even say that our business model is the same as Mobike's, but no one will think that riding a bicycle is looking for finance, right?"
They have hardly encountered high-intensity confrontation, while their biggest competitor was a company purchasing models for office computers. That kind of thinking is always your worst enemy.
Edianzu is a sample of the To B services possibilities. While most of the industrial internet companies were founded back in 2014, their respective founders have already been in their field of expertise for many years. They understand the regulation, they know the jargon, and complex operations only take them seconds to figure out. Indeed, some problems have solutions, others have not, it is all clear from the get go.
They all share traits, like mastering core knowledge, and having a deep understanding of the online world. These entrepreneurs also have other common qualities, they can withstand loneliness, they do not evade problems, and they have the ability to solve them.
Ji Pengcheng showed no sign of anxiety, as if everything was well under his control. "You can look at all the core capabilities of the To B model in the current market, we have them all."
Che300: small cuts, big business
There are still some things in the To B market that look insignificant, but some of them conceal great opportunities. The average investor cannot see this hidden potential, and even if they do, it usually requires setting up a very complex technology.
For example, the second-hand automobiles e-Commerce business is very popular at the moment, but where do reference transaction prices come from?
Few people have heard of Che300, it has never attracted media exposure. However, this Nanjing-based company plays a key role in determining the transaction prices for second-hand cars. Whether you are an online e-Commerce platform, a small offline To B car dealer, or an individual, as long as you are buying and selling used cars, you cannot do so without the data services provided by Che300.
When being interviewed, Xu Wei, founder of Che300, explained why he chose to become an entrepreneur. He said, "I like cars, I know cars, and I know how to perform data analysis. This business seems to be tailor-made for me."
Xu was previously responsible for data analysis and mining in a U.S.-owned software company. He starting to grasp the ins and outs of the second-hand car market when he was living in the United States. At the end of 2013, when Xu Wei locked in the field on doing a car-related business, he found out that price standardization for used cars was missing. Back in the United States, there is a company called KBB that provides this kind of benchmarking, but it is mainly designed for C-end users. Back home, in China, he thought this has to be a To B business opportunity.
With a clear vision, he envisaged, that in order to create value in the second-hand car trading business, the key factor was price standardization. Team members did not agree with him. Their argument was even discouraging, saying "there are too many different buyer and seller profiles in this business, prices cannot be standardized accurately."
But Xu Wei rejected their conclusion. If the actual value of the car was RMB 50,000, then a RMB 40,000 or RMB 60,000 assessed value would not make sense, because the disparity would be too great. But what if you could give a RMB 48,000 or a RMB 52,000 estimation? The margin of error would have been reduced enough to become acceptable.
In fact, whether it is Guazi, a private car owner or a professional car dealer, they all have their own pricing system, as well as selling preferences. Being at 100% in accordance with a third-party price is not realistic. As long as they can finalize a deal using price references from Che300, it does not matter if they then want to tweak the prices to reflect their own individual price setting methods. This is the best evidence of Che300's influence.
Xu Wei spent three years refining the accuracy of the data. Without any foundation or resources, they started collecting all kinds of data from open channels, and from new cars to used cars. They filtered and cleaned up false information, and then forecasted the actual transaction price from the listing price with a substantial 80% accuracy.
When investigating other companies of the same type, Source Code Capital found out that most second-hand car e-Commerce platforms were using the data provided by Che300. After being introduced to Xu Wei by an entrepreneur, Cao Yi scheduled a two-hour meeting with him. They talked well into the afternoon, and an investment plan was quickly concluded.
When Source Code Capital invested in Che300, its valuation was at RMB 100 million. Today, it is valued at RMB 1.3 billion.
Wang Xingshi said that one of the characteristics of data service providers is that, the more people use them, the more accurate they become. "Those are businesses that make friends in time." Sourcing, processing and generating data is not easily done. "This is the essence of their competitiveness, it is their core strength."
The early promotion of Che300 services was extremely difficult. Car dealers thought they had enough experience, and no one wanted to give it a try. "If I had made a single mistake, I would have lost money." Xu Wei went personally to the trading markets, distributing leaflets, but a slow start made him anxious.
After the boom of the second-hand car e-Commerce platforms such as Guazi or Renren cars, companies recruited a lot of new appraisers and testers. They were mostly young people with little to no experience, but they were good at using the Internet. Coupled with the high circulation rate and the presence online, Che300's services started to spread quickly. In 2015, the daily activity and user numbers on the Che300 website began to explode.
Che300 already has a 70% or 80% penetration rate on the second-hand car market, and 56,000 car dealers across the country are using their products. Since then, they also dabbled into second-hand car financing, doing risk-controlled standardized products. Today, over 500 leasing companies compose their base of users.
But the company, with only a team of around 200 people, is already more than profitable.
Yijiupi: Setting the situation
In an earlier interview, Dai Wenjian, the founder of Huochebang, said: "Do you know what VCs value in me? My strength."
With a single APP, truck drivers can pick up orders online. It is considered to be a cargo version of Didi. This APP encountered a strong resistance at first, because it was encroaching on the interests of the local supply network. Some people went as far as blocking store doors or smashing everything in them. Trucks were facing difficulties all along the way, every time they were to enter a city, like a broken windshield, or even a fight with local "gangs," were unfortunately, quite common.
When the company entered into China's Northwest market, the team comprised of just over 300 people, and they were able to open a network in seven provinces within a month's time. This was done at the cost of several damaged cars. Dai Wenjian personally supervised the operations. "Nothing is achieved without strength."
This is just a glimpse into the industrial Internet development process. Internet breaks down barriers that traditional actors are determined to defend vigorously.
Yijiupi also had similar experiences. As its name suggests, the company is in the liquor wholesale business. It uses Internet to reduce distribution layers and optimizes supply channels, therefore becoming the direct link – linking the top and the bottom of the liquor chain, from the primary agent (wholesaler) all the way to the end-user (the shop).
Although the interests of the primary agents were not impacted, those of the liquor circulation were modified, and its benefits redistributed. The traditional sales system had been challenged. Different actors rallied, and confrontation soon followed.
Founder Wang Chaocheng had been in consultancy in the liquor industry, built offline channels, and even worked in B2C e-Commerce. He had a very rich resume and was not one to accept defeat. He knew very well the psychology of the liquor business.
From a short-term perspective, the distribution system has been solidified, and every actor was profiting from it. Then suddenly, someone appeared to do something different. As in every family, when one member gets hurt, the others stand up for him.
However, in the long-run, original dealers are scattered all around the place. The individual volume dealt with is minimal, and with overall disorder reigning, none of them have any bargaining power. If an actor eventually becomes big enough, then his parole carries more weight, which also does not facilitate long-term strategic considerations.
Liquor groups started spreading malicious reports on how Yijiupi was organizing low-price dumping. This triggered the administration, which then led to several inspections on quality, and both industrial and commercial door-to-door inspection of warehouses. Some delivery trucks were even intercepted. In Hefei, 17 commercial agents received the following warning: if anyone dared to supply goods to Yijiupi, they would be severely punished.
Alibaba and JD.com have long been used to that kind of practices. Back in 2012, Moutai issued a statement saying that it would never supply TMall or JD.com. During the last two years, Ma Yun and Liu Qiangdong went personally to Moutai several times, in order to improve on their relationship with the group.
E-Commerce and industrial Internet are both regarded as rule-breakers, but truth to be told, the latter possess greater influence and larger interests. To this theory, Wang Chaocheng does not fully adhere. "Is it a real trouble maker, or is it misunderstood? The key to this difference is whether or not you are creating value."
From a status of pariah to this newly found popularity, things have changed. Now some liquor brands directly supply to his company.
Yijiupi has reshuffled the cards when it comes to the distribution of interests (benefits). The Internet made the purchasing price for small stores relatively transparent. Now, newcomers cannot be prejudiced by information asymmetry, and they can expect an increase in their income. This is the value of the information leveling brought by the Internet.
A deeper impact made by Yijiupi is to be seen on the construction of the industrial infrastructure. It consolidated similar items, shortened the circulation circuit, reduced the number of cargo operations, and improved the overall industrial efficiency. In addition to liquor, they have also now extended their reach throughout the FMCG industry.
The third value brought by industrial Internet is capital. This is the natural advantage of a trading platform, which can be easily integrated into a finance supply chain.
After Source Code Capital's investment, under the leadership of Cao Yi, Yijiupi was the approval of Meituan for a strategic investment, and is even regarded as part of Meituan's strategic ecosystem today.
Yijiupi also helped small stores improve on their ERP system, opened stores on Meituan, and even developed small programs. The consumer Internet became invisibly connected to the industrial Internet. Such an accomplishment could only have been done by a startup that truly understands the in's and out's of the industry.
Like other industrial Internet segments, the distribution links of liquor and FMCG industries put a deeper emphasis on the connection between the upstream and downstream actors. This decision has the following consequence. The division lines run deeper and their relationships with customers are stronger than others. If you wanted to change it, it would be very difficult.
Wang Chaocheng smiled mysteriously and added, "The industrial internet will see the rise of more heroes."