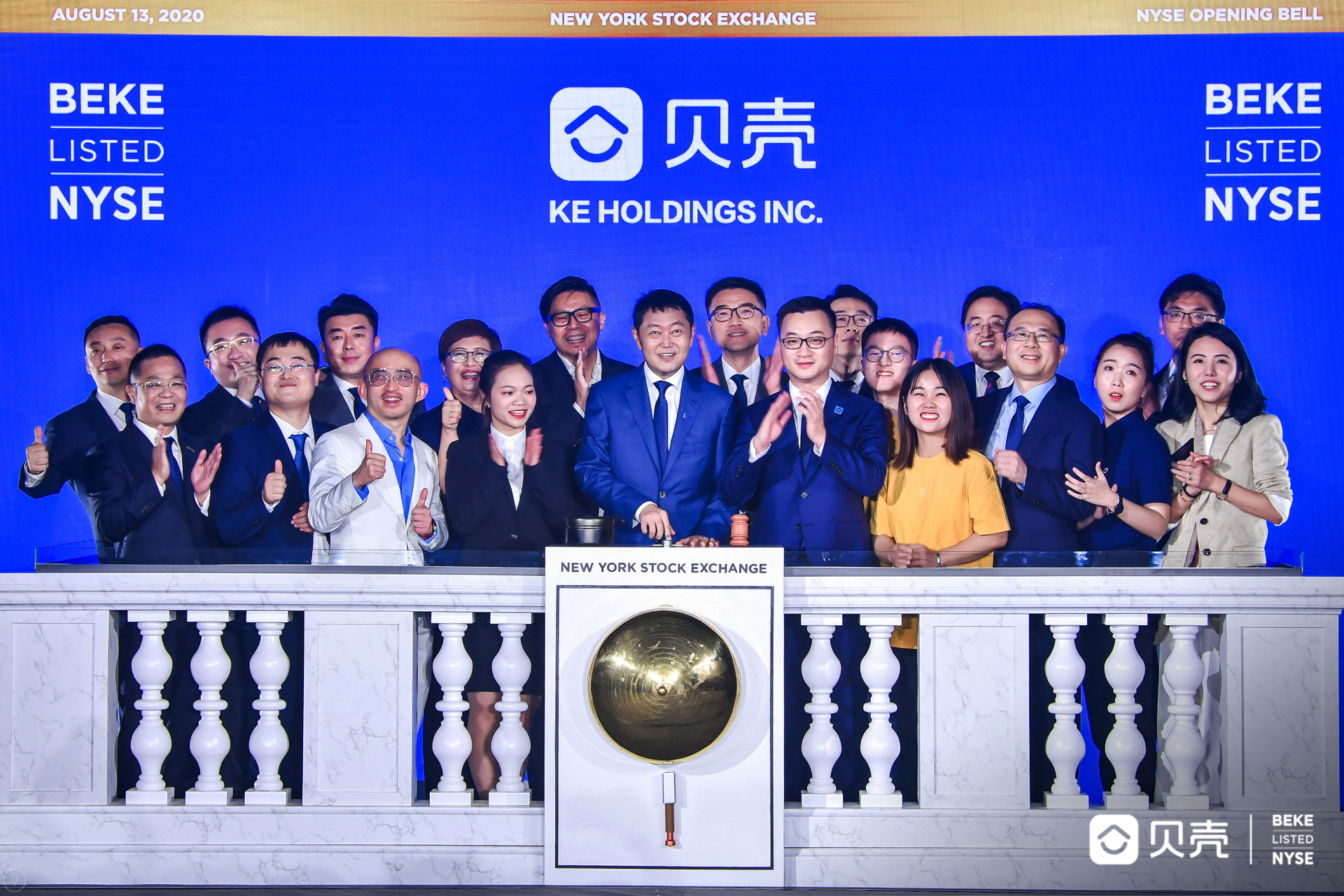 On August 13, 2020, Source Code Capital's portfolio company, Ke Holding Inc.'s ("Ke Holding") IPO landed on the New York Stock Exchange (stock code NYSE:BEKE), officially becoming China's "leading housing services platform." The IPO price was set at US$20/ADS, 106 million ADS shares were issued, and the company had a pre-market value of US $2.12 billion.
From the perspective of the company's GTV, back in 2019, Ke Holding already had become China's largest real estate transaction and services platform. It is also China's second largest commercial platform, just behind Alibaba. Ke Holding's three main businesses are, existing housing transactions, new home deals, and other emerging businesses. Its commitment is to provide comprehensive and reliable residential services for over 300 million families. 
From Source Code Capital's view, Ke Holding is a typical S2B2C business model. Source Code Capital, confident in this model, started investing in the company's B round, and continued to do so increasingly in the subsequent C and D rounds, growing alongside Ke Holding.
Cao Yi, Founding Partner of Source Code Capital, said: "In our "Three Fundamental Drivers" (3×9) investment map, in the basic necessities provided by the "Internet+," Ke Holding has become the most preeminent actor. In addition to Ke Holding, in the pan-residential sector, Source Code Capital also invested in other star enterprises like Ziroom, Julive, Huizhaofang, and Narwal. Housing services-related companies embody our investment logic. In traditional Chinese aspirations, one major aspect is the desire for a "home," the wish for a better family life. The COVID-19 epidemic further reset our priority, making everyone more willing to "invest" into "living well." We firmly believe that in that particular field, driven by forces such as Internet+ and AI+, those businesses will continue to develop and see the emergence of leading entrepreneurs, such as Ke Holding, creating enduring, real value, to improve the life of Chinese people."
The Promising and Long-term Ke Holding Model
In a note, "A Letter to Shareholders," founder and chairman of Ke Holding Zuo Hui said, "we divided the entire business chain of the real estate model into four mains areas: manufacturing, trading, housing, and financial service support. We believe that between the in-depth services provided by offline brokers and the consumer awareness established by online data, we have the potential to create new value across the entire business chain."
China's real estate transactions services market is vast, but due to weak infrastructure, the experience and the efficiency of practitioners and consumers alike has been proven difficult to improve on. In order to address the weaknesses of that business, Ke Holding built the ACN (Agent Cooperation Network, a broker cooperative network) model to redefine the relationship between service providers. As the underlying operating system of our platform, ACN connects different brands and brokers to help service providers cooperate efficiently and share success, which results in providing customers with better and more convenient services.
At the 2018 Code Class Annual Meeting, Mr. Zuo said that digitalization of the real estate industry represents the future. He said,"It seems to me that the real estate industry is the last one, or one of the last few industries in China, that struggles to go online. The main reason behind it is the fact that the whole industry chain is too long."
Mr. Zuo said, "For us, the main issue in the complex delivery format is in the coordination of multiples roles. How to create more efficient synergies between the so-called platform B and C? How to reflect the data gathered online? These are part of the core changes we want to see happening in the future. In the real estate transactions chain, those changes are already occurring, and but when it comes to furnishing, major changes are likely to take place in the near future."
The business model of Ke Holding can be summarized by "two networks." Through the digitization and standardization of data, transaction processes and service quality, Ke Holding has built a "data and technology-driven online operating network" to help consumers make more accurate decisions, promote mutually beneficial collaboration between platform service providers and brokers, and enhance the whole industry's efficiency. Whereas for offline, as according to the IPO Prospectus, Ke Holding is stationed in 103 cities across the country, connecting more than 456,000 brokers and 42,000 brokerage businesses from 265 brands, forming a "community-centric network of offline stores."
"An online network" greatly improves the efficiency and the quality of offline operations. On the other hand, the "offline network" helps owners, customers and Ke Holding to generate more interactions and connections, generating therefore more and better behavior data. The two helps and complements each other, creating a virtuous ecological cycle. Ke Holding calls this transformation of the traditional service industry the "Agent-Engineer," or "A-E," where E turns data into a tool to empower A, helping him or her provide better services for their consumers.
At the same time, after years of research, Ke Holding built the ACN, redefining the relationship between service providers, and by a large extent, creating a huge "network effect." While the existing homes transaction volume stays relatively constant and the number of broker-agents continues to consolidate, Ke Holding can superimpose on top of it even more services, fully enabling the "platform effect." This "Dual network and dual core" system drove its growth to unexpected levels.
This is another reason why Source Code Capital is so enthusiastic about the S2B2C model of Ke Holding. Following this investment logic, Source Code Capital also invested into star enterprises with similar models such as Ziroom, Baibu, XiaoYaoYao, YQNLink, and Julive. These star start-ups, albeit playing in different industries, are making the most of the advantages of this model, and have introduced profound changes with far-reaching effects for the traditional industry.
The Layout of the leading digital company in the food, clothing, housing and transportation industries
In addition to the advantages of model, having a wide range of needs is also an important requirement. Source Code Capital believes that under the digitization of daily life needs, such as clothing, food, housing, transportation, etc., a group of platform enterprises, worth potentially hundreds of billions of dollars in value, will definitely emerge in the Chinese market. These start-ups will become a pillar in Chinese people's lives.
In food delivery, Meituan, which survived the early battle for market staying power, has always regarded catering distribution as its core business, and gradually expanded to become a giant in the daily life services industry. As an absolute leader in the food delivery industry, Meituan's single-day order volume currently exceeds 40 million, and continues to maintain strong growth.
Regarding travelling, the new car ideal, represented by Li Auto, is accelerating a new technological revolution. Combined with the rapid iteration of the Internet and technology, Li Auto redefines the concept of "car and home" with the ultimate product, using electrification, AI, and connectivity. It has won the market's trust, and is, unsurprisingly, currently leading with regards to sales.
Concerning digital content, ByteDance started with information distribution and algorithm content push, and incubated many high-quality internet products, including TouTiao, Tiktok, and Feishu (Lark). At the same time, with efficient organization and management and a global international strategy, ByteDance is becoming a world-class enterprise lauded by Internet users around the world.
Through many years of personal investment, hard work and growth, Source Code Capital's portfolio companies, Meituan, ByteDance, Ke Holding, and Li Auto, have become leaders in their respective industries. Among them, the market value of Meituan continued to break new highs this year, while Li Auto and Ke Holding successfully landed in the U.S. stock market. The successful IPO of Ke Holding means that following its "Three Fundamental Drivers" (3×9) investment map, the early layout of Source Code Capital in the pan-residential track will also enter a mature development period. Source Code Capital hopes that with the help of high-quality innovative companies, it can invest in future leaders encompassing a whole range of industries in this digital content era, such as food, clothing, housing, and transportation. Source Code Capital wishes to deliver more high-quality products at lower cost and with higher efficiency, to help people improve their daily life. 
The Entrepreneurial Spirit of Continuous Breakthroughs
Lianjia, established in 2001, engaged in the second-hand housing and new housing transactions, leasing, and decoration business. In April 2018, Ke Holding Inc. was officially launched. Leaving the comfort of the traditional intermediary model, it was determined to switch to a digital platform, and not afraid of the challenges ahead. Much of this is due to the management team's philosophy based on "long-termism" and an insistence on "doing the difficult but right things." This "pushing the limits" state of mind is characteristic of a pure entrepreneurial spirit.
At the 2019 Code Class Annual Meeting, Peng Yongdong, co-founder and CEO of Ke Holding Inc., said, "The industrial Internet has too many roles, the process is too long and complicated. There is no SOP for the same set of service procedures. Many organizations are driven by KPIs and do not necessarily see value through time. This is a real issue.
Peng Yongdong said, "The Industrial Internet is an excellent supply-side business. There are only two basic models of supply and demand in the industry. In the first one, supply and demand are independent and separate. In the second one, supply and demand are integrated. Our core focus is the integration of those two basic models into three groups: in the first group the supply and demand are between buyers and sellers, which refers to the business model of separation; the second is the supply and demand between consumers and service providers, and between service providers and brokers, which revolve around the supply and demand of services and the value exchange of those services. This is a business model that also separates supply and demand. The third is unique to our industry. Brokers are a business model that integrates supply and demand. Each broker is both for another broker. Suppliers are also demanders, thus creating a very strong network effect between the different actors. This model is the real essence of the industry. For example, after a broker puts his own housing supply on a shared platform, others can have access to this information, or even be able to cooperate on this housing source basis. This is a true cooperative network, and this is the essence of the industry." 
For Ke Holding Inc., there are only two criteria for checking whether things are right or not. First, is whether or not they benefit the consumers, and the second, is whether or not the service provider is good for end-users. Their strategy is to do the difficult but right thing. Difficult things need long-term perspective and a realistic attitude.
Ahead of the IPO, Mr. Zuo said in his "letter to shareholders," that by adhering to long-term values had constantly forcing the growth of the organization, Ke Holding Inc. will go great lengths to ensure that consumer promises are fulfilled, and will constantly explore new "challenging and exhausting" leads, that if successful, will prove to be a huge opportunity.
The management team led by Zuo Hui has an average experience of 10 years. When still in the position of an industry leader, being able to foresee great strategic opportunities for future development, means one must abandon personal pride, and have outstanding efficiency when it comes to implementation. He needs to make every effort to promote model transformation and upgrade, even if it means starting from scratch. This is the most powerful manifestation of an entrepreneurial spirit.
House is home, a treasured aspiration for every Chinese
The basic happiness concept for Chinese people is a house, because it is a home, and the home is the starting point of all happiness. The happy life that every family pursues is like a pearl that Ke Holding Inc. cares for.
As the supply and demand relationship in China's residential services market becomes more balanced, the real estate brokerage services will generate huge market opportunities. The rapid development of the industry will give Ke Holding even more space to grow. It will also provide help to many Chinese families, by giving them a place to start building their happiness. 
Congratulations again to Ke Holding Inc! This IPO will be a new starting point. We would also like to extend our blessing to all Code Class members and all entrepreneurs. Source Code Capital will continue to work hand in hand with you, to "do the difficult but right thing," and together, to create enduring real value.