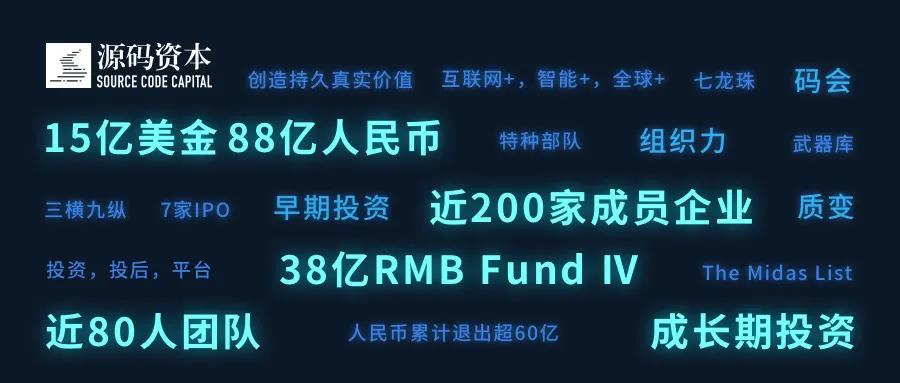 Source Code Capital has announced the closing of its most recent RMB fund at RMB 3.8 billion. With the completion of this successful RMB Fund IV fundraise, the total funds under management at Source Code Capital have now reached a grand total of USD $1.5 billion and RMB 8.8 billion.
The LPs for RMB Fund IV primarily come from mainstream domestic financial institutions, top-tier funds of funds, large-scale listed industry groups and government-led funds. Over 70% of the Fund came from previous LP investors, who have all re-upped and continuously increased their participation. This impressive 70% re-up ratio shows investors' trust in Source Code's outstanding performance. The cumulative DPI from Source Code's RMB funds totaled over RMB 6 billion, and includes seven initial public offerings (IPO's) so far, including the recently listed Li Auto (NASDAQ:LI) and KE Holdings (NYSE:BEKE). This level of recognition and commitment also comes from Source Code Capital's core principle: Creating enduring real value. In the future, Source Code Capital will keep working with visionary new economic entrepreneurs to promote the continuous development of the industry.
Cao Yi, CEO and Founding Partner of Source Code Capital, said, "Despite a volatile environment this year, the fundraising work went smoothly, especially with thanks to the extensive support of our existing LPs. With our new LPs, we now have what the industry references as the "Seven Dragon Balls" of the industry. With their help, we will be able to provide sustainable and effective support to new economy enterprises across various development stages, and help propel excellent entrepreneurs to become leaders in their respective industries. Our wish is that the underlying changes in technology and commerce can increase the quality of life for society."
Over the past six years, Source Code Capital's team has expanded and now includes nearly 80 professionals, divided into investment, post-investment, and platform operations, all linked together in an organic fashion. Source Code Capital has also won many TOP LIST awards in the venture capital business, both locally, and internationally. Cao Yi, Founding Partner of Source Code Capital, made it on The Forbes Midas List for the third consecutive year, and Huang Yungang, Partner at Source Code Capital, made his debut appearance on the 2020 Midas Brink List.
Qualitative Change
Since it was established, Source Code Capital has been following its "3 Fundamental Drivers" investment roadmap, looking for tenacious entrepreneurs in the fields of "Internet+", "AI+" and "Global+", in order to create, together with them, real and lasting value. After six years of joint evolution, Source Code Capital and the Code Class members experienced development from the early stage to the growth stage. Whether from the To B industrial Internet, which includes intelligent manufacturing and robotics, or from the To C industry, focusing on new consumption content and channels, new entrepreneurs actively continue to join Code Class. Those enterprises gradually move forward from the "first curve" to the "second curve" and even the "third curve."
In addition, Source Code Capital's investment team has already achieved professional division and organic cooperation between the early-stage and growth-stage teams. This allows Source Code to better support promising companies from early- to growth-stages, through continuous investment and continuous guidance.
Based on long-term thorough industry research and efficient due diligence, Source Code Capital can complete an investment decision of hundreds of millions quickly and with impactful insight. The recent IPOs for companies, such as Li Auto (NASDAQ:LI) and KE Holding (NYSE:BEKE), are excellent examples of investments during the growth stage. The growth stage investment team also invested in "To B" enterprises such as Baibu, Casstime, XiaoYaoYao, Yijiupi, Yimidida, and Zhongneng United, as well as "To C" enterprises such as ByteDance, Meituan Dianping (3690.HK), Li Auto, KE Holding, Ziroom, Pagoda, Pai Technology and Cha Yan Yue Se. Some of them were continuously invested in from an early stage onwards, and others in their growth-stage.
A combination of both early and growth perspectives can lead to a more comprehensive vision and a scientific decision. It also ensures that the investment team has a more accurate overall view of the industry and stages. This allows them to enhance their value judgment, which in return can provide Code Class members with more support on both board and strategic levels across different stages.
Until now, Source Code Capital has partnered with nearly 200 companies across many different sectors, such as media and entertainment, consumer services, enterprise, finance, retail, transportation, housing, education, and healthcare. Today, its family of portfolio companies include: ByteDance, Meituan Dianping (3690.HK), KE Holding (NYSE:BEKE); Li Auto (NASDAQ:LI), NIU Technologies (NASDAQ: NIU), RELX Technology, Narwal Robotics, Ziroom, Julive, Huizhaofang, Pagoda, Meili Inc. (Mogujie) (NYSE:MOGU), XinChao Media, Walnut Coding, Weimai, Huishoubao, Linji Convenience Store, Qing Hotel, Cha Yan Yue Se, WangBaoBao; Yijiupi, Yimidida, XiaoYaoYao, BaiBu, Edianzu, Zhongneng United, Keenon Robotics, Honganrobots, YQNLink, RuiGuShop, Cassmall, Che300; Qudian (NYSE: QD), Asset360, Insnail Hospital, Magnet Finance, ABC FinTech; KrazyBee, Zenjoy/ME2ZEN (KOSDAQ:A950190), BLUE, and OPay.
The Power of the Organization
Over the past six years, Source Code Capital has conducted an in-depth exploration and iteration of its organization. This resulted in various improvements in Source Code Capital's organization. Cross-functional collaboration within the company increases efficiency, creates new synergies and effectively simulates a teamwork between the "Special Forces" and the "Arsenal." The "Special Forces" include both the early and growth stage investment teams; the "Arsenal" includes professionals with various functions in the post-investment and platform team, to empower the "Special Forces" and portfolio companies.
With the improved cooperation between early and growth and the post-investment teams, entrepreneurs can benefit from the in-depth knowledge of Source Code Capital regarding the industry and regarding entrepreneurship, right from the start. They can feel the dedication of the post-investment team, and experience the efficient execution ability of the operation team. Efficient collaboration is also organic, as it promotes mutual help and stimulates common growth among investment, post-investment and operational colleagues.
For example, when COVID-19 broke out around Chinese New Year 2020, the investment team was able to quickly understand the impact of the epidemic on member companies and their urgent needs. Meanwhile the post-investment and operation teams immediately offered eight "Code Brain" courses on the following theme: "Help each other, Fight COVID-19." Code Brain is devoted to help entrepreneurs deal with various practical problems ranging from epidemic prevention, to financing, to online-remote work solutions, to policy interpretation and cash flow management.
As the epidemic came under control, resuming production and growth became the most urgent needs for company development. Source Code Capital also figured out channel and marketing support needs from the portfolio companies focusing on new consumption models. During preparations for 11/11 (China's Singles Day, like "Black Friday" in the U.S.), portfolio companies promoting new consumer brands collaborated with ByteDance's Tik Tok to carry out new innovative marketing strategies.
There are many other examples like this, from the continuous evolution of the "Code Class" ecosystem, the value of IT data capabilities, and cooperation between LP's and member enterprises. The development of a more organic organization supported by multiples levels and cross-functional interactions can help the Source Code team adapt ahead of peers. Entrepreneurs and investors can feel the continuous innovation and iteration at Source Code Capital.
With the completion of this new RMB IV fundraise, Source Code Capital will continue to work hand-in-hand with the dedicated, audacious, and creative entrepreneurs to promote business transformation. This mission, relying on the compounded power of technology and capital, is all about creating enduring real value. Cao Yi said: "Whether it is technology or basic business, the essence [of that change] is to liberate people, to give them more freedom and make their time more valuable. We have invested in a wide array of excellent entrepreneurs and good companies. They are all making life better, making businesses smarter, making humans freer, and making life richer and more meaningful. This is the value we create together, and the most profound change we want to make."