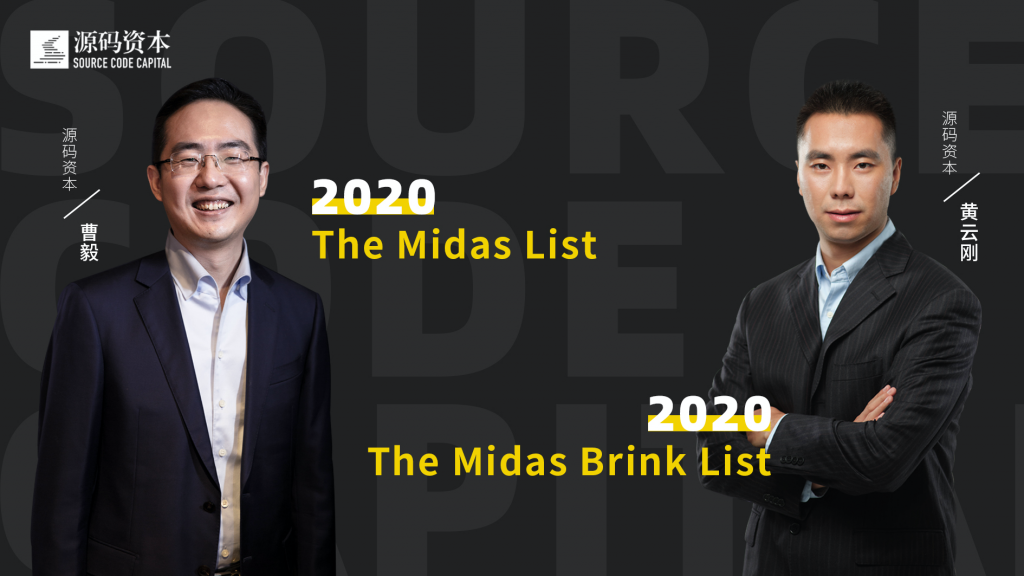 In the morning of April 14, 2020, Forbes unveiled its Midas List and Midas Brink List for 2020, ranking top venture investors in the world.
Cao Yi, Founding Partner of Source Code Capital, is once again chosen to join The Midas List for the third consecutive year, after being awarded with such distinction in 2018 and 2019. Huang Yungang, a Partner in Source Code Capital, made his debut appearance on the 2020 Midas Brink List.
Every year, since 2001, Forbes magazine looks at venture capitalists around the world and releases the "Forbes Global Best Venture Capitalists List," which is composed of the top 100 venture capitalists. Over the years, the list got nicknamed the "Oscar" of the venture capital industry. In conjunction, in 2014, Forbes magazine also created the Midas Brink list, a selection of investors who are poised to join the Midas ranks and have been making a name for themselves in the venture capital industry.
1. Growth
From the absence of Chinese investors on the Midas List in 2011, to the incredible surge in number of Chinese investors on the list since 2018, this 2020 edition welcomes 20 new Chinese investors. Amongst the "golden fingers" of global investment, the increased presence of Chinese nationals on the list confirms the fact that China's new economy and venture ecosystem is gradually gaining more global influence.
Source Code Capital was founded in the Spring of 2014, and since then it has devoted to becoming the partner of choice for leading entrepreneurs in today's "Information Revolution" era. With over USD $1.5 billion and RMB 5 billion under management, it has been recognized by the world's top SWFs, university endowments, non-profit organizations, pension funds, FoFs, family offices, leading industry corporations, as well as professional investment institutions such as PRC central government guidance funds and state-owned enterprises.
Over the past six years, Source Code Capital led investments in nearly 150 enterprises focusing on Internet+, AI+, and Global+ (China-angle companies in the international arena). Some of the portfolio companies include ByteDance, Meituan-Dianping, Ke.com (Lianjia Group); LEADING IDEAL, NIU Technologies (NASDAQ: NIU), RELX, Narwal, Ziroom, Julive, Huizhaofang, Pagoda, Meili Inc. (NYSE: MOGU), XinChao Media Group, Walnut Coding, Weimai, Huishoubao, Linji Convenience Store, Yijiupi, Yimidida, XiaoYaoYao, Baibu, Edianzu, Zhongneng United, Keenon, CHUXIN, YQNLink, Ruigushop, Casstime, Che300; Qudian Group (NYSE: QD), Asset 360, Insnail Hospital, Magnet Finance, ABC FinTech; KrazyBee, Zenjoy, BLUE, and OPay.
The Source Code team also expanded, from the initial dozens of people to over 60 professionals across three distinct functions of investment, post-investment, and platform operations. The team encompass different aspects of the investing industry such as investment management, product technology, consulting and media, forming a unified base and with a multi-dimensional perspective.
2. Responsibility
In early 2020, COVID-19 started spreading worldwide.
At the start of this epidemic, in order to help and support medical personnel that were fighting the virus on the frontline across China, Source Code Capital donated RMB 3 million to a Bytedance-anchored humanitarian SPV (in collaboration with the China Red Cross Foundation). This donation has the goal of supporting frontline medical staff who risk their lives to fight the coronavirus.  In the meantime, Source Code Capital called on all Code Class members (individuals and businesses alike) to actively incite them to contribute, within their abilities, to the fund and to offer their compassion. Code Class members including Baibu, Che300, Casstime, Ruigushop, Simple Pieces, Yimidida, Zhaomei, and Zhongneng United donated RMB 1+ million, meanwhile, Chuxin's CEO Liu Changyi, Yishen's CEO Huang Yiran, and Zhongneng United's CEO Yang Tianli, personally donated RMB 125,000.
In addition, in order to help member companies maintain "normal" operations during the epidemic, while ensuring an active investment rhythm, Source Code Capital's post-investment service called "Code Brain" released a new series of online courses covering various topics including legal affairs, financing, etc. Over 370 entrepreneurs and LPs joined the courses over a few weeks. The post-investment services team organized online recruitment, and invited human resources professionals and headhunters to share their workplace and virtual recruiting experiences as well.
3. The Four Pillars of Youth:Becoming an institution, the spirit of entrepreneurial investment
At the beginning of 2020, during a Tsinghua PBCSF where he was invited to, Cao Yi mentioned in his speech that good companies in the Second Half of the Industrial Internet has several characters. The macro level is to evolve from an incremental economy to a consolidating economy (as in more moderate growth). The industrial level has shifted from a pure 2C focus to having a degree of equilibrium between 2C/2B, perhaps with 2B even taking the lead sometimes. Entrepreneurs initially focused more on capturing market dividends (such as China market's expansion bonus), but are now obliged to pay more attention to their own organizational capabilities. The capital level (as in funding supply say from venture capitalists or private equity) was formerly more concerned with finding high growth models, with higher speeds of expansion (and in return accept a faster depletion of resources or cash burn), but will now pay more attention to looking for business models that offer more moderate but sustainable growth, with slower rates of consumption, and more moderate usage of funding or spending.
Source Code Capital is also a "youth," facing the "second half" various uncertainties. In order to do so, it is necessary to find our inner strength and achieve the "The Four Pillars of Youth" on an organizational level: the Tao or the Way (Editor's note: as in the Chinese concept developed by Confucius and Mencius – being wise and just, enlightened), Fa or a method, Shu or tactics and strategy, and finally, Qi, which would be the equivalent of talent. This will make us the most entrepreneurial investment institution. (Source Code Capital Cao Yi: "The Four Pillars of Youth — Good Companies in the Second Half of the Industrial Internet.")
Finally, Source Code Capital hopes to accompany entrepreneurs at all times. Facing a complicated and complex external environment, to become the most entrepreneurial investment institution, to find more people with this mindset, and to rely on the power of technology and capital to promote business change and create enduring real value in the "second half"!