At the 2017 Code Class Annual Meeting, CEO of Meili Inc., Chen Qi, shared his insights with Code Class members on the topic of "combining good content with good products."
After reaching a peak last year, the live video broadcast market began to cool down this year, but Mogu Street's live video business continued to grow. This is precisely because the Mogu Street's broadcasts incorporated e-Commerce, and "combined good content with good products." Mogu Street launched its short-form video business last year and has since become one of fashion industry's most popular video platform in China. It consistently ranks first in among industry media vendor and partners. Through the short video format and providing good quality content to users, Mogu Street has saved hundreds of millions in advertising costs.
Every company encounters development bottlenecks or business boundaries. Chen Qi believes that the key to breaking through is to focus on the core business to create strong cash flow, which will lift the overall success rate of a multi-faceted business plan.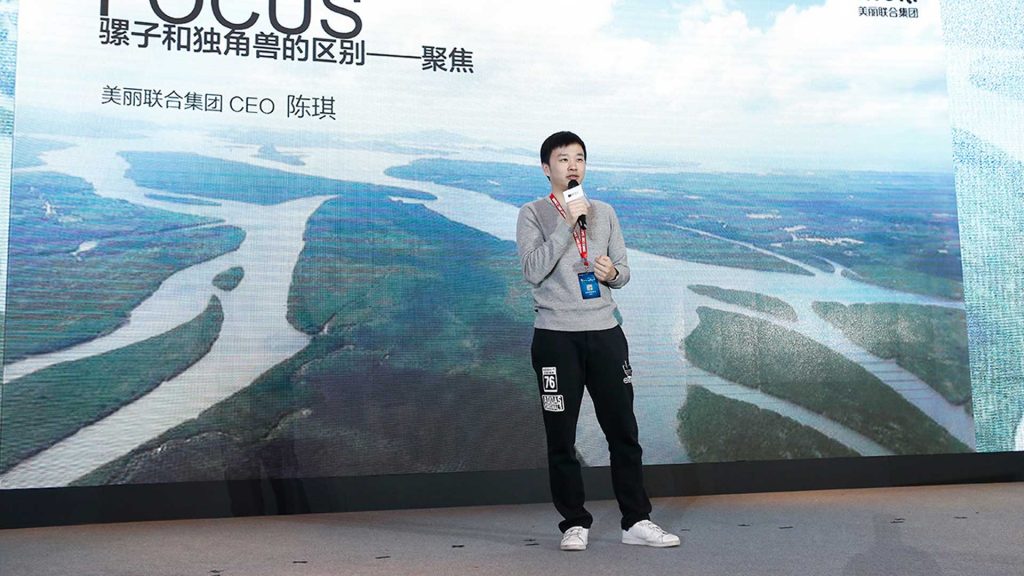 Mr. Chen's full speech is as follows:
Hello everyone, thanks to Cao Yi for the invitation. Today, I want to tell you about the focus of the issue. Just now, Wang Jingbo talked about a three-year period. I agree very much. I am now in the sixth year. I just finished my second three-years period. The second three-year status is almost the same as that of Wang's second three-year phase. In the first three years, we got our basic products, drove users to like us, and accumulated our initial tens of millions of customers.
In the past three years, we focused on the construction of the entire company itself, including the creation of our entire business model, and we are now focusing on the core business, making a cash flow, and supporting us to develop faster.
One thing that challenges me very much is when I should stick to what I did before, and when I should break through and try something new?
1. "Focus" has nothing to do with product form and is related to core competence.
I am a very curious person, and I have a strong desire to try a lot of new things. My friends know that I used to be a designer, and I like deep thinking and am often attracted by things with strong emotions and sensibilities.
Looking at our previous news reports, there is a very common saying that our company is a company that focuses on transformation. It seems that this company has made a lot of changes. I always thought that that was a misunderstanding, as I cannot be sure if we can survive that many large-scale transformations.
What we insist on is to combine good content with good products, because we believe that through this, we can bring a better experience to consumers, which is our core competence.
Everyone knows that the live broadcast industry was very hot at the beginning of last year. Although it has started to cool down, our live broadcast business is booming.
We entered the live broadcast business last March. Our team and engineers at that time did not understand the industry. We said that we have to do e-Commerce. Why do we have to do live broadcasts? Although we have a lot of women users on the platform, it does not mean that we can win by live broadcasts alone.
In the past, we have accumulated a large network of models and online celebrities. The operation team rushed these online celebrities to enter the live broadcast market, and they did whatever they wanted. But soon, everyone found there was a problem. Because our platform consists of mostly female broadcasters, and most of our audiences are also female, our audiences were not "gifting" (tipping or paying) for content.
We then made a decision. First, let's get rid of the gifting function. The second is purging broadcasters who are only into performing or looking good, and we only kept those who sell products. It was almost like starting over again. When this change started to have an impact, the entire business began to change gradually.
Currently, the broadcaster who has earned the most revenue on our platform last month raked in RMB 6 million singlehandedly, and business was very stable. We only sell clothes, which is combined with our core capabilities. Our core capability is to combine good content with good products. Live broadcast is just a change of product form. This part is combined with our platform and that business has been growing very fast.
Another business is short video. Today, everyone feels that this is a very hot commodity. We started short videos a year ago. The reason we entered the short video segment was the opposite of the live broadcast segment. While live broadcast did not start as an e-Commerce platform at first, short videos are all about selling things. Short videos are about introducing cosmetics or introducing something to sell. In its initial state, short videos were not seen by anyone and products were not sold, so the conversion rate was extremely low.
For consumers, short videos are not as strong as live broadcasts due to its lack of interaction. It is also slower to watch short videos than to browse through pictures of products. A user probably browses through 3,000 images before buying a product. Thus, short videos cannot satisfy browsing needs.
Subsequently, we put forward a direction to develop real content, focusing on cosmetics and online dating and match-making. We should now be the country's largest short-video sales platform in fashion, and we continue to be the premier go-to platform among media vendors, with a daily broadcast volume in the tens of millions. Our users can release 7-10 short videos per day.
This is equivalent to spending a lot of money on brand advertising prior to our inception. We use the short video format to provide users with good content, while saving the company about hundreds of millions in advertising costs.
These two businesses seem to be on the opposite ends. One has not succeeded in horizontally developing content while also operating e-Commerce, the other has not succeeded in developing e-Commerce horizontally, but was very successful after it changed to focus on content. This is very relevant to the theme of our talk.
We often have such businesses that are in the maturing process. It is difficult for us to judge whether it has lost focus or that it is too focused and too narrow.
In these two cases, I found a point. The focus is not related to product form, but to their core competence. As long as you are still leveraging your core competencies, you are considered focused.
Now how do you put this in perspective? I said that the core capability of our company is to create better content on the basis of commodities and help consumers discover goods. So, when the business of "shopping guides" mirrors this trend, it can grow quickly. When video becomes relevant to our core competencies, it will also grow rapidly.
2. If you focus on the original content capability, the impact will be very obvious.
When our company first accumulated early users in the first three years, we heavily utilized Sina Weibo and QQ Space, and developed a lot of entertainment content. For example, we developed a lot of horoscope-related quizzes and EQ quizzes at the start. We did this because we did not want male customers as our initial customers. This meant that if you advertised like you normally would, half of that advertising costs would have been wasted.
We also found that both men and women liked to have men on advertisements, but if the advertisement has a female lead, we get more clicks from men. So, one of our biggest challenges in advertising at the beginning was how to filter out male viewers.
At that time, we conducted a lot of horoscope and EQ quizzes. For example, how many boyfriends will you have until you find the "one"? These questions do not interest men. Our audiences were all female, and that directly increased our efficiency. This is to say that our team has always had a very strong operation in social network and in attracting traffic.
With the company's rapid expansion and a strong demand for urgency, the team will increasingly invest in these tactics, including online or cable TV ads. This is when you will find that you're using more and more conventional tactics, and becoming less creative.
This year, I made another very simple step: reducing my marketing department's budget. The point is to not allow them to spend money.
This team has been in a very painful situation since, as they have tried every trick in the book already. But no matter what strategy they propose, I have always rejected them until their plan was aligned with our original capability.
What I have said is that we have a very strong native capability in social networking and entertainment content. If you have been on our platform recently, you will find that we have celebrities on there every day. Starting from the next week, we will feature A-list stars every day of the week partnering with us. We are starting to do interviews and Weibo interactions, and the entire process does not cost us a penny. If you pay them directly, they will not be able to produce anything like this. It is all very interesting.
Having mentioned these three cases, I would like to share that there were all kinds of things during our growth that caused us to lose focus, resulting in huge losses. Earlier at the Code Class presentations, Wang Jingbo said that many teams will encounter this problem when they face bottlenecks or boundary issues while businesses develop. We found that the way to break the cycle is not to think about doing more things, but to cut back and re-focus. Think and filter out everything you do. If it is not necessary, then toss it, and the resulting positive impact from focusing will be obvious.
3. Position your main business with positive cash flow. The more profitable it is, the higher the probability of success.
To help companies break through, focus is key. The most important thing is to make your core business into its own cash flow. This is something that has been discovered by many businesses recently. The latest "hot topic" in Hangzhou is Netease's example.
Recently, Netease's marketing has done a great job, including Koala, Strict Selection, Netease Cloud Music, games, and others. We have a lot of employees who asked me, "why can't we develop as many businesses as Netease? Why can't you be more like them?" In particular, product managers and tech colleagues have lots of interest and motivation to develop a wide range of products.
In turn, we only gave one reason to help everyone understand. Only when our own main business function becomes very profitable, can we afford the possibility to explore new businesses.
I am very clear about the requirements from the entire team. What we want is to make our main business profitable. Our mentality has changed to a very positive attitude. We have a very clear view of ourselves. Right now, our revenue is already quite high and we will continue to expand. As we profit from new growth, the success of a multi-faceted business plan will become even higher.
To sum, my sharing is about focus, and I hope you enjoyed the anecdotes and changes that I have experienced myself. I look forward to sharing more about my thought process journey with everyone during Code Class. Thank you all.