During the 2017 Code Class, Chairman Zuo Hui of Lianjia shared his perspectives on the real estate industry. Mr. Hui believes that to analyze the real estate industry, four aspects need to be considered.
First aspect: Commercial real estate. The core business of China's real estate industry is currently still residential, a prospect for commercial real estate is promising.
Second aspect: Population distribution. Position ahead of time using predictions of future population distribution.
Third aspect: Classifying the industry. Segmenting the industry into construction, trading platform, real estate aftermarket, and market for financial services.
Fourth aspect: Online-to-offline. There are opportunities for online to enhance all industries offline. There is still great potential for offline businesses in the real estate industry, thus online need to stay connected to offline.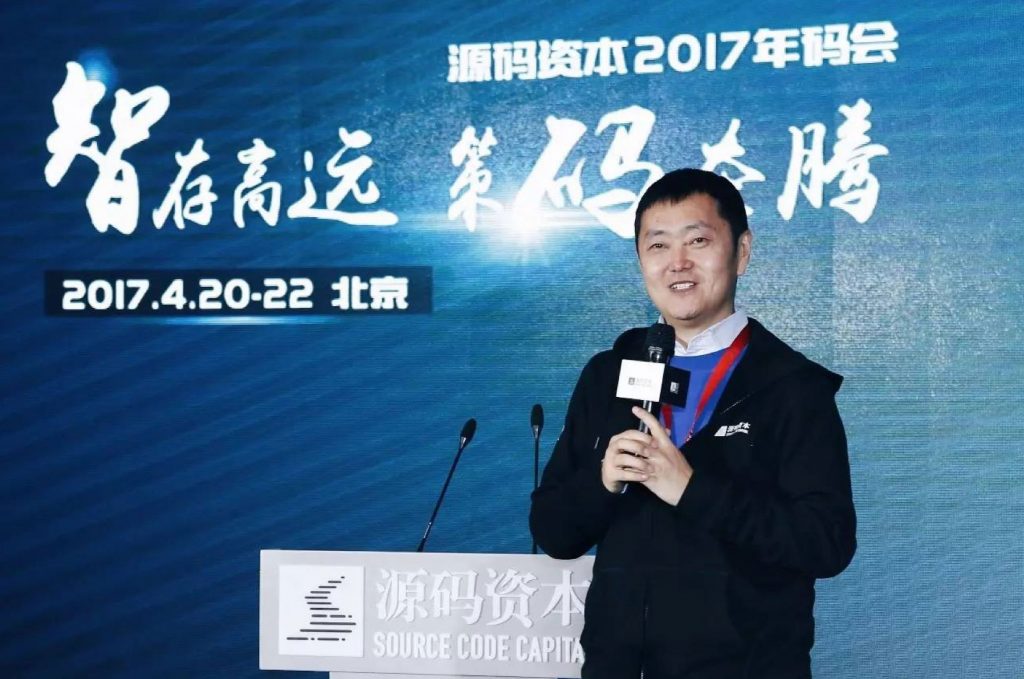 Mr. Zuo's full speech is as follows:
Good morning everyone. Earlier in the Code Class Annual Meeting, Zhang Yiming of Toutiao talked about the importance of context. The story he shared with everyone must fall under a specific context. I am also curious what context he was sharing under. I guess it is from his personal experiences of being a leader and a manager.
The content I am sharing now also falls under a specific context. Although the industry I work in is relatively unique, and my own company is relatively unique, we are still classified under real estate services. The real estate industry is one that everyone has a say in and usually will generate a lot of resonance when discussing with others.
So, today I'd like to share my perspectives and personal understanding of the real estate industry, just for everyone's consideration.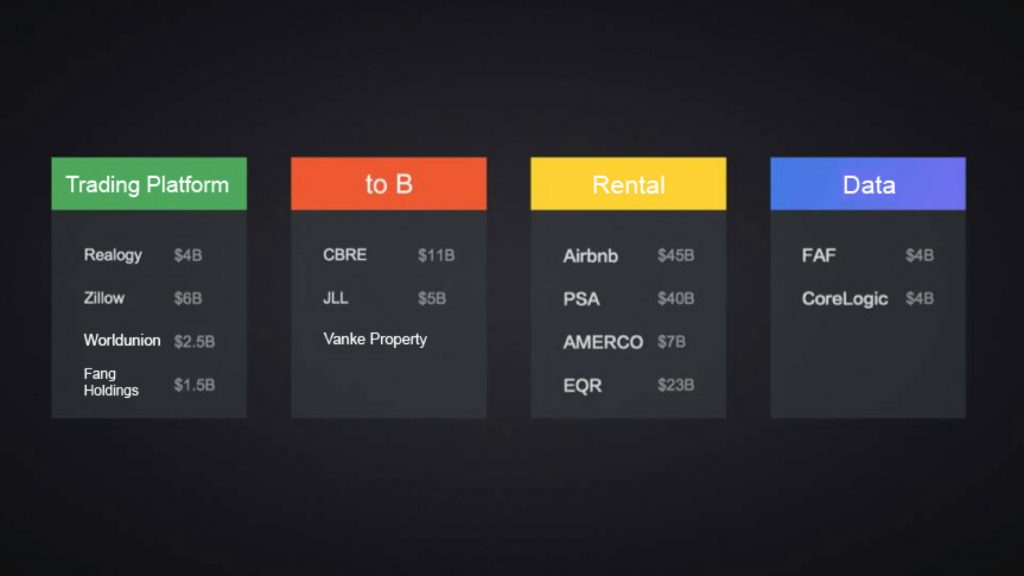 Let us take a look at this picture and think, how do we comprehend the real estate industry? From how many aspects?
1. Expecting Chinese commercial real estate to expand soon
The first aspect is 2B (commercial real estate). Lianjia has been working in 2C (residential real estate) for 15 years, but now commercial real estate accounts for a larger portion of our business. In our industry, there is a relatively large company called CBRE (Commercial Real Estate Services), it has a higher asset valuation in the real estate trading industry. What we saw was that there are many players in commercial real estate, with CBRE being the first. They are now mainly doing insurance and property rights in the U.S. We classify them into 2B as the final stage, and that is what we see today.
I believe that in China, the dominating real estate market is still residential. Therefore, there is great room for commercial real estate to expand, with opportunities in areas such as business office and market-related data. Some of China's infrastructure is lacking, and that includes the real estate industry as well. In particular, our database is lacking in both breadth and structural robustness. As a result, Lianjia hopes to have access to data to all real estate developments in China, particularly in the residential market.
If anyone here has purchased a house in the U.S, you would know that real estate data in the U.S. is quite thorough. We have data of 70 million property units in China, but what are some details of individual residential development in the cities in the entirety of China? What kind of units are there? In China, many data for real estate is inadequate, down to floor plans for each residential unit. Properties like office buildings and storefronts are lacking in infrastructure. To sum up, the first aspect we look at is commercial vs. residential real estate, with the principal market still in residential, and growing opportunities in commercial.
2. Lianjia's strategic positioning is based on an understanding of China's urbanization plan
The city is our second aspect. China now has a 700 million urban population, and that number is going to reach one billion, how do we think the one billion urban population is going to distribute? Where will business opportunities arise? There are many projections. I saw a McKinsey report ten years ago, at that time they made four predictions of population distribution of cities, based on highest density to lowest, and each one is different.
My understanding is that urban population is relatively denser if we look at the industry overall, the industry today encourages people to spread out. My understanding is that in the future, there will be about 20 metropolitan areas in China, each with roughly 30 million in population. That makes 600 million in these 20 metropolitan areas, that is my understanding of the basis of this situation. All of our strategic positioning revolves around this. I believe this is very important. The questions are, what will the future population distribution look like, and how do we select our target market? This is the second aspect.
3. Four segments of the real estate industry: construction, trading platform, real estate aftermarket, and market for financial services 
The third aspect of looking at the real estate industry is market segments, and generally, we see four. The first one is construction. In short, developers construct the property, making them the producer of goods in the real estate industry.
The second is the trading platform. In real estate, market fluidity is very important, and trading platforms provides such fluidity, and that is what Lianjia does. Last year, the total sale value of China's residential market was close to RMB 17 trillion, that is a huge number. New properties account for RMB 10 trillion, and second-hand more than RMB 6 trillion.
I classify the third segment as aftermarket. Today we see many large industries, such as construction material, furnishing, and furniture, but these industries are not well organized, and that includes property management, and, for example, PRC, in Public Storage, which has an estimated worth at around USD $40 billion the U.S. I think there will be many new opportunities emerging in the aftermarket, if you are interested in investing, keep an eye on it.
Rental is an independent category, which can be grouped under the aftermarket, we call it "big self-management." We have a platform called Ziroom. It also separates into residential and commercial. There is a large demand for housing and storage in the residential part, and commercial part includes office space, retail storefront, storage and so on. Our rental business is mainly in the residential market, which also has many opportunities: short-term, long-term, high-end, and mid-end. There are many short-term rentals in the U.S. as well, and one good company is Airbnb, so to sum it up, I believe that rental will be a huge market. China's rental market will be worth RMB 1 trillion and will grow to RMB 3 trillion. In today's market, rental and sale are not comparable. There is a sale market of RMB 17 trillion, versus a RMB 1 trillion rental market. There are many opportunities for growth, everywhere between online and offline, long-term and short-term, residential and commercial. Airbnb also does storage.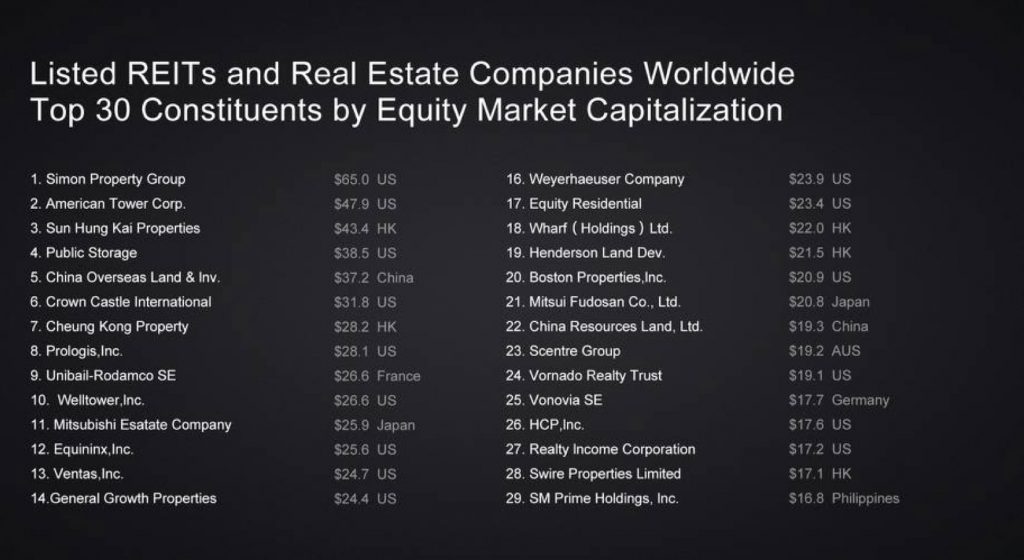 In China, the industry is closely linked with the development of REITs (real estate investment trusts). If we follow the development of REITs, then data concentration will be a big influencer for our growth. The largest real estate businesses in the U.S. today are in the picture, but they are not the largest developers. All of them are large REITs. A typical one would have a size of about USD $50 trillion in the U.S. Cheung Kong Property ranks 7th and still is not the largest real estate investment trust. I think rental is a major trend. By comparison, real estate investment trusts are ahead. The largest REITs are residential REITs, and commercial is the second largest. There are also good big data companies online in the U.S. They are all for commercial real estate, their monetization all come from financial institutions, that is our goal for the future.
I talked about three segments, construction, trading platform, real estate aftermarket, and the fourth segment is the market for real estate financial services. There are also many new entrepreneurial companies in the U.S. working in this industry. For example, one online company makes online trades. These are the few major aspects in today's real estate industry, each of which could generate many companies.
4. A crucial topic for an online start-up is how to link online-to-offline 
The last aspect is online to offline. Every industry has some online start-up company, generating opportunities for offline. My personal feeling is that the real estate industry will also have many issues. In recent years, there are a lot of online start-ups in our industry, they did not do all that well. Lots of people put huge labels on us, saying that we defeated offline companies through online. I personally very much dislike that label, why? Because I feel the way we beat those companies is offline, not online. In reality, the chance of an online company beating an offline company is slim, and that label will be ill-founded. I feel there are still many opportunities for offline business in real estate, but because of the entry barriers, for example, there are many commercial real estate companies. Due to this large required amount of investment, it is unclear how online could afford that, thus how to link to offline is a crucial topic.
About Lianjia
Finally, let me finally take some time to talk about our company, as some friends are interested in it. Ou of the four segments we talked about, we have set foot in three of them, one of them is the trading platform. Lianjia provides fluidity for the market, and as far as we see it, if there is no fluidity in the real estate market, property value has no meaning.
Lianjia's mission statement is:
First, we provide comparatively stable fluidity support for real estate businesses.
Second, we provide the platform for self-managed rental through Ziroom.
Third, we do real estate financing.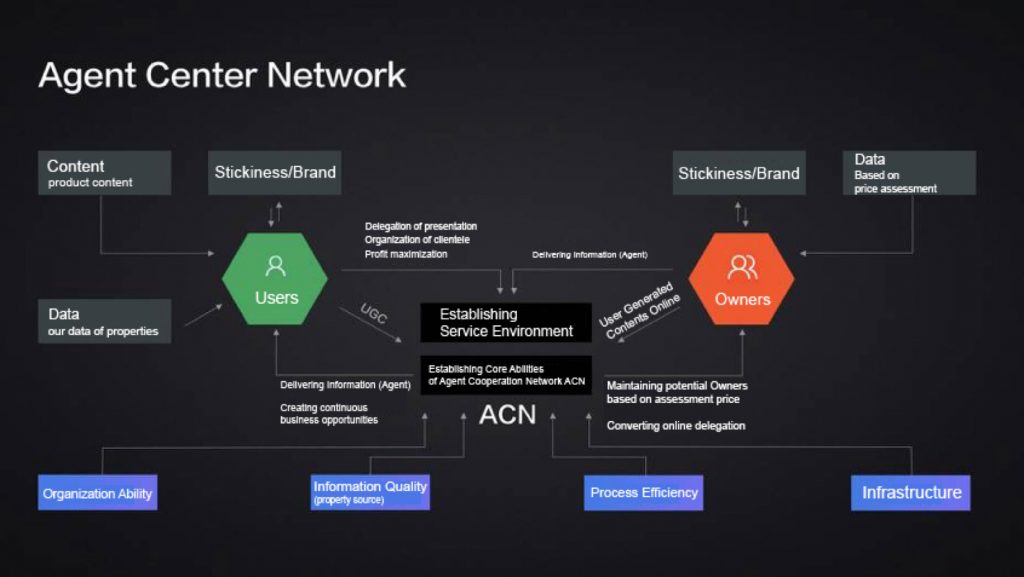 This is our core logic as a trading platform. There are around 150,000 agents in China today, and we have been thinking ever since we first started the company, why do these many agents concern us? More and more, we see agents as clients and products, not our employees, even though everyone signs a service contract. We position ourselves as an agent cooperation network. How do we organize these 150,000 or so agents into a small, tightly knit society? That would be the core question on our minds. How do we create a consensus amongst the agents, having them serve so many customers with a relatively stable set of rules? That has been our discussion for years. It does not matter if it is through online or offline channels, our host also talked about it, we have made it a principle early on, to share information non-discriminatorily. The problem facing consumers today is information overload, in a business transaction, it is a difficult thing to deal with. Helping to limit the information overload is also a value an agent provides.
That is all I would like to share with everyone, thank you all.